Daily Mail payout to Sally Morgan over psychic 'scam' article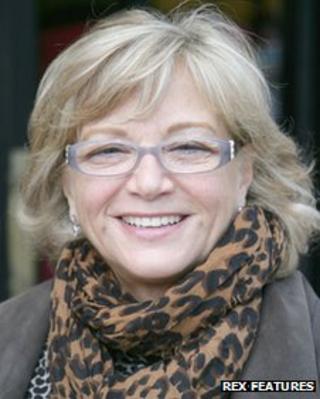 The publisher of the Daily Mail has agreed to pay "substantial" damages to a psychic after an article suggested she had "perpetrated a scam" on a theatre audience, a judge has heard.
Associated Newspapers has apologised to Sally Morgan and also agreed to pay her legal costs, the High Court was told.
Mr Justice Tugendhat heard Mrs Morgan was a psychic who had become well-known through TV and theatre appearances.
A statement on Mrs Morgan's website revealed the payout had been £125,000.
And she herself was quoted as saying: "It was an unjustified and unfair attack and it has been a very difficult, costly and painful process to get where I am today and to rectify that wrong.
"There will always be sceptics who attack my work and I understand and accept that. However, to libel me and falsely accuse me of a con trick does not constitute rational commentary or debate. I hope now this settlement and apology will repair the damage that has been done."
'Enormous distress'
Mrs Morgan sued for libel after the article was published in September 2011.
Her lawyer, Graham Atkins, had told the court: "She has performed in over 600 shows in more than 100 different theatres or venues to audiences stretching into the hundreds of thousands."
"It was following a theatre performance in September 2011 in Dublin that an article appeared in the Daily Mail which, in the context of a general attack on psychics as being charlatans, accused Mrs Morgan specifically of having used a hidden earpiece during her performance in order to receive instructions from her team which she then repeated on stage as if she had received them from the spirit world."
He added: "The article thereby suggested that Mrs Morgan had deliberately and dishonestly perpetrated a scam on her audience in Dublin."
The allegation had "caused enormous distress to Mrs Morgan, who decided, given the newspaper's initial defence of the article, that she had no choice but to commence legal proceedings against the publisher of the Daily Mail", he said.
Brid Jordan, for Associated Newspapers, told the judge: "The Daily Mail withdraws the suggestion that Mrs Morgan used a secret earpiece at her Dublin show in September 2011 to receive messages from off-stage, thereby cheating her audience, which it accepts is untrue."
She added: "It apologises unreservedly to Mrs Morgan for publishing the allegation. It has agreed to pay her substantial damages, together with her legal costs, and it has also agreed not to repeat the allegation."