Newspaper review: CQC 'cover-up' considered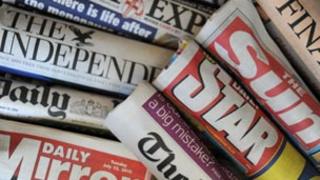 The possible cover-up at the Care Quality Commission (CQC) is widely reported and there are calls for whoever was responsible to be publicly named.
England's NHS regulatory body has apologised for its response to complaints about a series of baby deaths at Furness General Hospital in Cumbria, admitting it had been "not fit for purpose".
The Times says it would be better if the commission came clean before a name was dragged out of it.
The Daily Mirror says those who abuse public trust must be named, shamed and sacked.
The Sun goes further, saying their names should also be handed to the police.
Knox reunion
The Daily Mirror puts a "world exclusive" tag on a photograph across its front page.
Taken in New York, it shows Amanda Knox reunited with her former boyfriend, Raffaele Sollecito - hours after an Italian court confirmed they faced a retrial for the murder of British student Meredith Kercher.
The paper says she declined to comment on reports she would not be returning to Italy to face justice.
A large photograph on the Sun's front page shows Nigella Lawson on a mobile phone - without her wedding ring.
The paper says it is the first time she has been seen in public since the altercation involving her husband, Charles Saatchi, which led to him being cautioned for assault.
Many papers report from Brazil on the unrest that has been sweeping the country.
The Times speaks of an unfamiliar carnival of anxiety.
It acknowledges that Brazil suffers deep social problems but believes the underlying trends are more positive.
The paper says a decade of growth has lifted millions out of poverty, resulting in a middle class that only now has the confidence to demand a new deal from its government.
Soaring bonuses
There is prominent coverage of Chancellor George Osborne's Mansion House speech, setting out the government's plans for Lloyds and Royal Bank of Scotland.
"Osborne readies City for Lloyds sell-off" is the main headline in the Guardian, which says there is mounting speculation that the move could begin within months.
The Daily Telegraph highlights the chancellor's assertion that the economy is "out of intensive care".
It says there is growing optimism among ministers that Britain is finally over the worst of the economic crisis.
The Independent says the Treasury may have lost tens of millions in April when bankers' bonuses soared to record levels as the government's cut in the top rate of income tax took effect.
Meanwhile, the Sun claims Mr Osborne suffered a crushing blow to his ego at the G8 summit as US President Barack Obama referred to him three times as Jeffrey.
"It was cringeworthy," one observer tells the paper.
The paper points out that Jeffrey Osborne is an American soul singer and says the president was simply getting the UK chancellor's name mixed up with that of one of his favourite musicians.