Work Programme not doing enough for sick and disabled, providers say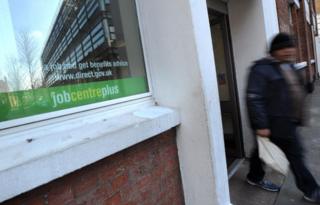 Providers of the government's flagship Work Programme have told ministers the costs of helping sick and disabled jobseekers into employment cannot be met under the scheme.
Of those who have been on the scheme for at least a year, a third have begun a job, figures seen by the BBC show.
But in the most challenging group - who claim Employment and Support Allowance (ESA) - only 10% have found work.
Work Programme providers say the needs of these jobseekers are too great.
The Employment Related Services Association (ERSA), representing the providers, says those receiving ESA have complex health and skills requirements and the Work Programme can not "fix all these problems alone".
"The costs of helping jobseekers on ESA back into work are significant and cannot all be met by the Work Programme," says the Association's chief executive, Kirsty McHugh.
"In order for there to be a significant step change in performance in helping these jobseekers into employment, we need greater use of skills and health budgets."
The call for spending from other parts of the public sector to be channelled in to support the Work Programme is an embarrassment for this flagship government scheme.
The Department for Work and Pensions says the payment-by-results contracts agreed with Work Programme providers already give them "a clear financial incentive to support the hardest to help into work".
ERSA figures suggest around a quarter of ESA jobseekers have been unemployed for at least 11 years. The DWP says it recognises the "particular barriers facing many of the hardest to help".
The Labour Party has seized on the request for extra resources as evidence that "there is something seriously wrong with the Work Programme".
Shadow Work and Pensions Secretary Liam Byrne said: "It's now crystal clear the system is failing - and the government isn't fixing it.
"Three quarters of unemployed on the scheme haven't even started a job, and half of young people still haven't found their way into a single day's employment."
Total wreck
One Work Programme provider, Bromford Group, tries to help some of the most challenging people referred to the scheme in the West Midlands.
Julia Page, 58, suffers from clinical depression and anxiety and has not had a job in over 30 years.
Getting her even to the point where she can attend an interview has already taken over 12 months.
"I was a total wreck. I would cry all day everyday, literally" Julia says.
"It takes a heck of a lot of time to get through it but unless the government is willing to help, people like me and others aren't going to have that support and I will end up back on the dole."
Bromford Group is a not-for-profit housing association often working with people facing multiple challenges.
Its enterprise and employment manager James Walsh says the organisation cannot make the numbers add up when trying to help ESA claimants into work.
"We need more money to make it stick, to make it sustainable," he argues.
"I think everyone would probably say that the forecasts that they made have not proven to be accurate and the issues have proved somewhat more engrained.
"It is a tough job. You don't cure long-term unemployment in two years."
There are success stories.
Annie Hunter-Wem has been on ESA for a number of years but, after intensive help from Bromford Group, has now got a job working in a supermarket warehouse.
"I just couldn't believe I'd done it!" she says. "I broke down when I got in. I just sat at home after I had calmed down and I thought I could have done this a long time ago."