Newspaper review: PM's 'bid to spark Syria coup'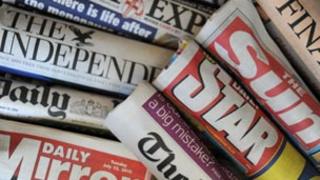 The message on Syria from the G8 summit in Enniskillen is clear to many of the headline writers.
"West tries to engineer a coup in Damascus," says the Times.
"Cameron's bid to spark Syria coup," reads the Daily Mail.
"Cam calls on regime to axe tyrant," declares the Sun.
The Times believes it is significant that the G8 leaders made it clear that President Bashar al-Assad's "henchmen" would be allowed to play a role in a rebuilt Syria.
The paper says the West is determined not to repeat mistakes made in Iraq where disbanding Saddam Hussein's military and political apparatus triggered years of sectarian conflict.
However, the Independent says differences over Syria were "papered over" because Russian President Vladimir Putin continues to stand behind President Assad.
Obstacles ahead
The announcement that the Taliban will hold talks with American and Afghan officials is described by the Daily Telegraph as "the most significant step yet in attempts to find a settlement to the 12-year conflict".
But the paper warns that many obstacles lie ahead.
For the Daily Mirror, the talks offer the best long-term hope of ending the bloodshed.
The Independent believes the war in Afghanistan is one that has been lost by the West and is sceptical that the Taliban will renounce violence, break ties with al-Qaeda and respect the Afghan constitution.
'End filth'
Tuesday's meeting between Britain's internet giants and the government on blocking child abuse images is not regarded by all as the "triumph" claimed by Culture Secretary Maria Miller.
The Daily Mail says a few signatures on a "toothless" agreement does not amount to a moral showdown.
Under the headline "end this filth", the Sun calls on Google to eliminate child abuse websites entirely from its search engine results.
The Daily Express leads with what it calls the "resurgent" housing market.
The paper says homeowners have seen the value of their properties rocket by an average of £750 a month over the past year.
Government figures show that the average UK house price in April was £238,000 - an increase of £9,000 on the previous year.
One housing expert tells the paper the housing market "is crackling with electricity at the moment".
Ginger noughts
Finally, the Times reports new research that suggests chickens are more egghead than bird brain.
Despite often being regarded as at the bottom of the avian intelligence pecking order, the paper says the reality is that chickens have a capacity for mathematical reasoning and can think, apply logic and plan ahead.
What science has confirmed was known to be true in Las Vegas as recently as 10 years ago, the Times says.
Ginger the chicken, it says, regularly defeated human challengers in Nevada at noughts and crosses - although she was always allowed to go first.