Guantanamo inmate Shaker Aamer discussed by Cameron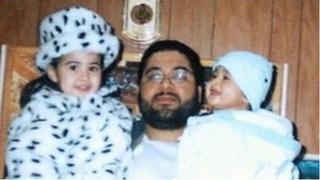 The case of the last UK resident held in Guantanamo Bay has been raised by Prime Minister David Cameron in talks with US President Barack Obama.
Shaker Aamer, from London, has been in the military prison since 2002 following his detention in Afghanistan.
Foreign Office Minister Alistair Burt confirmed a discussion was held during the G8 summit in Northern Ireland.
He said the government "continues to make clear to the US that we want Mr Aamer released".
Mr Burt added: "My ministerial colleagues and I will continue to make representations to the US administration."
The Saudi national has not been charged with any offence and has been cleared for release from Guantanamo in Cuba.
The 46-year-old has permission to live in the UK indefinitely because his wife is a British national. When Mr Aamer was arrested in 2001, he had three children and his wife was pregnant.
US authorities said he led a unit of Taliban fighters against Nato troops and had met Osama Bin Laden. But Mr Aamer has always said he was in Afghanistan with his family to undertake charity work.
His cause has some support among the British public, with more than 100,000 people signing a petition calling for his release.
At least 14 British nationals and residents were held at the Guantanamo Bay at one time, with Binyam Mohamed's release in 2009 leaving only Mr Aamer there.
In answers given to BBC Radio 5 Live's Victoria Derbyshire show last month Mr Aamer said he was "falling apart like an old car" having joined a hunger strike by other inmates "for justice",
Mr Aamer said it was difficult for him to say if the UK government has been doing enough on his behalf, but it was his lawyer's opinion that the foreign secretary "was sincere in his efforts to secure my release".
He added he believed he will be released "very soon".