Kettle police acted unlawfully at rally, High Court rules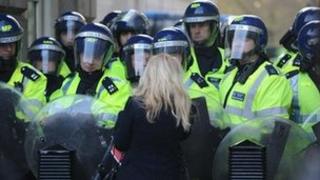 Police officers who took the personal details of a woman "kettled" during a trade union rally in 2011 acted unlawfully, the High Court has ruled.
The court ordered the Metropolitan Police to delete records of Susannah Mengesha and film and photographs taken of her at the demo.
Her details were taken while she was contained by police while a legal observer during the London protest.
The Met said it would consider the ruling and "take forward any learning."
Ms Mengesha, a law graduate, was contained by police with a group of protesters near London's Piccadilly Circus for two hours on 30 November 2011 at a trade union march against public sector pension cuts.
'Chilling effect'
Police said the "kettle" - which involves police forming a barrier around protesters to keep them within a fixed area - was "necessitated by a reasonably apprehended imminent breach of the peace".
Before being allowed to leave, police filmed Ms Mengesha and made her hand over personal information.
She was "tagged" - filmed close up under bright lights - for identification purposes by a civilian employee of the police and gave her name, address and date of birth to a police officer.
The Met had argued they were entitled to obtain, and retain, the information for crime prevention purposes, but Lord Justice Moses said they had acted outside their powers.
"The absence of any statutory power to obtain identification in the circumstances in this case establishes conclusively the unlawfulness of the police action in requiring [Ms Mengesha] to be filmed and give her name and address and date of birth before she was released from containment," he said.
The judges agreed that containment was necessary, but they said being filmed and handing over personal details as "the price of release" was a step too far.
They dismissed the police's argument that the information had been handed over voluntarily and that obtaining identification of protesters was "part and parcel of the containment".
"Although the common law has sanctioned containment, it has done so in only restricted circumstances," Lord Justice Moses said.
This, he added, was to avoid uncertainty and "the potentially chilling effect on freedom of assembly and expression".
A spokesman for the Metropolitan Police said: "We are aware of the judgment... and will now give it our full consideration and take forward any learning."