Are Britons right to moan about the weather?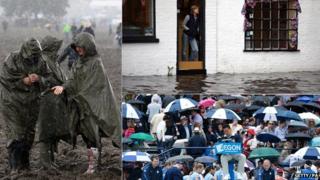 Weather experts are meeting to discuss what is behind the UK's unusual weather conditions over the last three years. It certainly seems to many like Britain is getting wetter and colder, or is it just that Britons love a good moan about a national obsession?
"Will we ever get a summer?" Michael Fish asked in the Daily Express earlier this month.
He was speaking at the end of the coldest spring for 50 years and after average temperatures dropped to 2.2C in March.
Parts of Britain may be expected to bask in hot weather over the next couple of days but the bracing spring, along with last year's wet summer and 2010's chilly winter will be on the Met Office's agenda as the experts investigate the causes of our recent "unusual seasons".
That unseasonal weather saw snow falling as late as May in parts of Britain. The freezing March was the second coldest since records began.
And that followed last year's spring and summer, which were the wettest for 100 years.
It's new extremes like that one that prompted one newspaper to label the UK: "Deep freeze Britain... now colder than Lapland".
In 2011, Scotland had its wettest year on record with 73.2in (1859.5mm) of rain, beating a previous record set in 1990.
The year before witnessed the coldest December in the UK since nationwide records began 100 years ago.
'Weather not seasons'
At the beginning of that record wet summer last year was the Thames river pageant.
Watched by millions across the globe, it was supposed to be a quintessentially British event - 1,000 boats sailing down the Thames in summer, cheered on by flag-waving well-wishers celebrating the Queen's 60-year reign.
But perhaps what was most identifiably British about the day was the relentlessly miserable weather.
The camera lenses capturing pictures for viewers from South Africa to Singapore were splattered with rain throughout the day.
The million-plus onlookers on the banks of a grey Thames hunched under union jack umbrellas and wandered around, spirits considerably dampened, in sodden ponchos.
That wet summer - one of the focuses of the Met Office's experts - was preceded by another extreme.
It followed earlier hosepipe bans and drought warnings. Rivers registered both their lowest and highest flows since records began.
The Environment Agency was prompted to warn that Britain must become more resilient to both floods and droughts.
"There's no doubt the last couple of years have actually been atypical", says Andrew Watts, chairman of the National Farmers Union crops board.
"It's an old British adage but we don't have seasons, just weather. I wouldn't say it's worse than before but it's more variable."
Farming suffered again earlier this year when unseasonal snow led to thousands of sheep and cattle freezing to death.
For some, though, the weather's effects are far less serious.
Revellers at world-famous outdoor British summertime events like Glastonbury and Wimbledon are regularly deluged but rarely put off.
In fact, says Dave Richardson, who has been going to the June festival for the last 10 years, the British weather brings festival-goers together.
Two months of rain in 2005 washed tents away and turned the farm into a giant mud bath. There were similar scenes in 2007.
"People tend to fight through it and make more of an effort to talk to each other. And the traders love it because they sell loads of wellies," Dave says.
So could unpredictable, colder and wetter conditions actually bring people together?
Kate Fox, co-director of the Social Issues Research Centre, says complaining about the weather has always been a very English trait.
"Shared moaning is just as effective in promoting sociable interaction and social bonding as shared optimism, shared speculation or shared stoicism," she writes in a yet-to-be-published update to her book Watching the English.
But exactly what causes the weather that allows us to engage in shared moaning remains a mystery.
"The aim is to understand some of the causes behind that variability," said Met office spokesman Dan Williams.
"A lot of those potential causes cannot easily be attributed to climate change. The more we can understand about these potential causes, the better advice we can give on near-term climate from a month out to about a year ahead."