WWII Dornier bomber to undergo conservation at RAF museum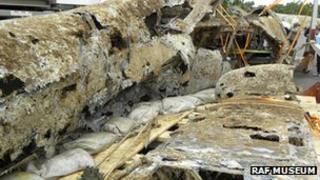 A German World War II bomber salvaged from the English Channel has arrived at an RAF museum where it will undergo the first stage of conservation.
The badly-damaged Dornier Do-17 aircraft was transported from Ramsgate to RAF Cosford in Shropshire.
It was lifted from the seabed more than 70 years after it was shot down during the Battle of Britain.
The project is believed to be the biggest recovery of its kind in British waters.
The fuselage and wings were taken on the 200-mile journey from Ramsgate to the museum by two low loader lorries.
Delighted members of the public and museum staff welcomed the Dornier as it arrived on site.
'Rare and exciting'
Alex Medhurst, general manager at RAF Museum Cosford, said: "After all the hard work, planning and setbacks, it's great to know the Dornier is finally here at Cosford.
"It will be a rare and exciting opportunity for visitors to get up close and personal to a unique piece of aviation history and the chance to view it in its salvaged state."
The aircraft will stay in RAF Cosford's purpose-built hydration tunnels for the first stage of its conservation.
The plane was raised from the English Channel off the Kent coast in a single lift on 10 June by attaching equipment to the fragile frame.
The hour-long operation was hindered by strong winds for weeks until a window of good weather made the salvage possible.
£600,000 project
An earlier plan to construct a cage around the wreck before lifting it was abandoned after it became clear that it would take too long and send the £600,000 project over budget.
The existence of the aircraft at Goodwin Sands became known when it was spotted by divers in 2008 at a depth of some 50ft (15m), lying on a chalk bed with a small debris field around it.
Sonar scans by the RAF Museum, Wessex Archaeology and the Port of London Authority then confirmed the identity of the aircraft as the Dornier Do 17Zv Werke number 1160.
The wreck is believed to be aircraft call-sign 5K-AR, shot down on August 26, 1940, at the height of the Battle of Britain.
'Flying pencil'
Two of the four crew members died and were buried elsewhere, and two - including the pilot - survived to become prisoners of war.
It was nicknamed the Luftwaffe's 'flying pencil' because of its narrow fuselage.
Experts are excited by the find because, apart from the effects of such a long time spent on the seabed - such as barnacles and coral - it is largely intact.
Amazingly the main undercarriage tyres remain inflated, although the propellers clearly show the damage inflicted during the bomber's fateful final landing, experts have said.
Once the delicate process of conservation is complete, the aircraft will be displayed at the RAF Museum in London.