Front-line fitness: Getting gym kit to UK troops in Afghanistan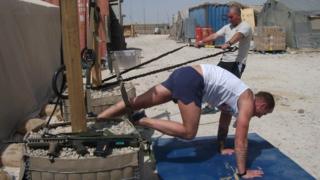 British combat involvement in Afghanistan may be in its final phase, but for servicemen and women the day-to-day grind of life on the front line continues. Despite their already very physical job, working out is one thing that helps them cope.
Keeping fit is one way many troops blow off steam, but in sometimes very basic and challenging conditions, it hasn't always been easy to do .
It's become a lot easier in recent months though, thanks to Warrant Officer Gareth Davies, who flies back and forth across Afghanistan delivering kit, setting it up and helping servicemen and women use it.
"The guys on the front line don't have an awful lot," he told the BBC News website.
"People think, 'Oh they must be drawing down, everything's cool' and it is in some ways. But they're still in a lot of danger and often still living in some really awful conditions, so they need to keep their bodies and minds in good shape to cope with that."
WO Davies - and two civilian engineers - have travelled to the remotest corners of Afghanistan to supply gym equipment.
They go by helicopter, although sometimes heavier items like treadmills are moved by road and he and his team arrive by air to install them.
The Ministry of Defence funds the supplies, but in the past had relied on outside companies to choose what to send and where.
"There was kit but there wasn't enough, or it wasn't suitable - there's no point sending something like a treadmill to the forward positions. They don't have the generator capacity to run and even if they do, they can't keep it clean or maintain it.
"So I said, 'Let's stop doing that, let's look at all the other options for things that don't require any power - sand-filled punch bags, skipping ropes, suspension training systems that rely on gravity.'
"I call it the gym in a box. It's made up of lots of bits of lightweight kit and it'll be able to stay in theatre until the very last soldier comes home."
The box is also inexpensive - he estimates about £600 on average - a lot less than even a single larger item like a rowing machine.
"Working out is something each guy can do for himself," WO Davies says. "A lot of them live in pretty austere conditions and they spend 24/7 with their buddies - that's pretty intense.
"Working out gives them some much needed personal time. It can help blow off frustration too - they're young guys and they need that sometimes.
"For the guys out in the remote places, me turning up also reminds them someone is thinking about them and their needs.
"The secretary of state has said he doesn't want troop welfare to slide during the draw down and this is a big part of that."
'Increased morale'
That point is brought home when WO Davies produces "Thank you" emails he's received for his work.
In one, Capt G Thorne, commanding officer at a mobile operating base in Lashkar Gah, writes: "Due to unpredictable and demanding work hours, members of the detachment are unable to use the main gym... Fitness is taken seriously by all members of the detachment which means that the arrival of the gym kit from your department has certainly increased morale."
Another email, from WO2 Gerry McQuade, working with the National Defence Academy (NDA), training Afghan troops, reads: "We have been like the forgotten orphans in NDA, but a visit and the... equipment we received has [gone] a long way in raising morale amongst our junior soldiers, especially in this stage of the campaign of drawn downs and closures."
WO Davies has also built a gym for Afghan soldiers and interpreters and trained a local individual as an instructor.
But one of his proudest achievements has been getting kit to the RAF gunners who protect Camp Bastion. They live in guard towers for up to six days at a time with very little to fill their off-duty hours.
An email from Wg Cdr Andy Jones reads: "As you can imagine spending up to six days at a tower is a challenge and anything we can do to enable some routine goes a long way to maintaining the professionalism and focus of the men.
"Many of the gunners enjoy their training and the ability to use equipment... whilst at the tower ensures that they achieve their fitness goals."
One such goal might be taking part in Afghan Aces, the 24 hour tennis tournament WO Davies has dreamt up, involving personnel from the Army, Navy and Air Force.
'Tricky spots'
Due to take place on 29 June - which is Armed Forces Day - it will raise money for Support our Soldiers, a charity which sends care parcels to troops.
"It'll probably be a bit hotter than Wimbledon, probably about 44 degrees," he jokes. "There are about 24 guys taking part so if you do the maths there's not going to be much time for sleeping."
WO Davies describes himself as "very privileged" to have the role he has, but admits feeling the pressure at times.
"There's only three of us to do the whole of Afghanistan and we're out at least twice a week on visits.
"We've found ourselves in a couple of tricky spots. Once I ended up on an unplanned foot patrol - we couldn't go on with the vehicles but I was determined to get the kit there.
"I got some of the guys from the base and we each carried one or two bits of gym equipment there by hand."
He adds: "I did make a few bold statements when I took the job, but I can say hand on heart that every single service person at forward locations has been provided with some kind of fitness equipment so they can take care of themselves."