EDF Energy calls for 'petrol station forecourt' pricing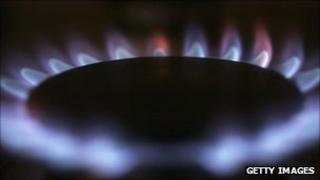 One of the UK's biggest energy suppliers has called for single-unit pricing for gas and electricity to help consumers compare tariffs as easily as they currently shop around for petrol.
EDF Energy said it would introduce the system if all other suppliers did too.
The energy regulator Ofgem said the proposed scheme would not be as easy to implement as it might appear.
This was because of the number of payment options and special "dual fuel" packages that currently existed.
A plan by Ofgem to simplify the energy market will be included in the forthcoming Energy Bill.
It will require companies to limit the number of tariffs on offer to four for each of gas and electricity.
But EDF said that plan was still too complicated.
'Simple way'
The French-owned firm called for all companies to set a single-unit price for gas and another for electricity.
It compared the idea to a petrol forecourt, saying it would mean customers could easily spot who was offering the lowest prices for fuel - just as easily as customers who drive between different petrol stations can instantly see where the best prices are offered.
But EDF said it would only implement such a pricing scheme if all the other energy firms followed suit.
Richard Lloyd, executive director of consumer group Which?, said simplifying tariffs would help customers.
"When we've tested prices being presented in this simple way we've found eight in 10 consumers can readily spot the best price for them," he said.
"So the current system is too complicated, the regulator and the government want to simplify the energy market for consumers, and the reforms they're proposing at the moment are still too complex."
Ian Marlee, of Ofgem, said: "What consumers have said to us, and we've researched with thousands of consumers, is that what they want is choice but they also want simplicity.
"What they want is the kind of discounts like a duel fuel discount or paperless billing discounts, that if you really were just to go for a unit rate, those wouldn't be offered."
The UK's largest energy supplier, British Gas, rejected the proposal.
And supplier Co-operative Energy said there would be winners and losers under the system.
"People who use more power will end up paying a higher amount. That's not necessarily a bad thing because, with the drive for energy efficiency, it'll be an additional incentive... to help people bring about energy efficiency. But we need to be very clear that that would be the case," said Ramsay Dunning, the company's general manager.
BBC business correspondent Joe Lynam said normally consumer choice was a good thing but the hundreds of different types of tariffs had left consumers confused.