Orde asks May to review PCC power to sack chief constables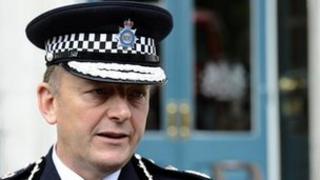 A senior police officer has called on the home secretary to review the powers of police and crime commissioners (PCCs) to remove chief constables.
Sir Hugh Orde, president of the Association of Chief Police Officers, wants to meet Theresa May to discuss the "huge" power granted to PCCs.
He said the current arrangement lacked scrutiny and he branded it "the worst system you can possibly have".
The Home Office said PCCs had given the electorate a "real say" over policing.
PCCs were elected in November to replace police authorities in all forces across England and Wales, excluding London, but Sir Hugh said the legislation needed reviewing to ensure decisions on dismissals were more carefully scrutinised.
Checks and balances
Earlier this week, it emerged that Gwent's PCC, Ian Johnston, had - in effect - forced the chief constable, Carmel Napier, to retire.
In February, Lincolnshire's chief constable, Neil Rhodes, was suspended by the area's PCC, Alan Hardwick, only for a judge to order his reinstatement.
The High Court has also had to resolve a bitter power struggle between Avon and Somerset's PCC, Sue Mountstevens, and Colin Port, who left as chief constable after eight years.
"The legislation has removed all checks and balances around appointments and dismissals," Sir Hugh told BBC News.
He pointed out that under the previous system, HM Inspectorate of Constabulary (HMIC) could be called on to help resolve difficulties when there was a dispute between a chief constable and a police authority.
Police authorities, made up of local councillors, magistrates and independent members, had powers to dismiss chief constables.
PCCs, who do not need to have had a background in the police, have a range of responsibilities, including appointing the chief constable of their force, choosing local policing priorities and setting out the force budget.
Under current laws, a decision to remove a chief constable must be referred to the local Police and Crime Panel, consisting of 10 to 20 members, who may ask for a report from HMIC, but the panel has no power of veto, and the final decision rests with the PCC.
Sir Hugh, formerly the chief constable of the Police Service of Northern Ireland, said he was concerned police "operational independence" could be put at risk if chiefs were concerned their jobs were at risk.
He said chief constables must be able to make decisions that may be unpopular without fearing they would lose their job, although he acknowledged the "vast majority" of relationships between chiefs and PCCs were "not difficult".
Labour's shadow home secretary Yvette Cooper said: "It is important that there is confidence in the operational independence of police officers and in the office of constable.
"Theresa May needs to start listening to the warnings she was given, from Parliament, the police and the public, and look at what reforms are needed to make sure operational independence is protected."
Gwent PCC Mr Johnston has submitted a report to the House of Commons Home Affairs Select Committee explaining his decision to ask Carmel Napier to retire.
Democratic reform
Mr Johnston, a former president of the Police Superintendents Association, told BBC News he had adhered to the correct procedures.
"What we will be saying in the response is that we've followed the letter of the law absolutely," he said.
"You'd be astounded if I'd not taken legal advice from the very outset with this process - and top legal advice," he added.
Wales' First Minister Carwyn Jones said PCCs had a difficult job because they relied on chief constables to deliver their promises "on the ground".
A Home Office spokesman said: "Police reforms are working and crime is falling. The introduction of PCCs has been the most significant democratic reform of policing.
"They have worked with the police to cut crime and given communities a real say over policing priorities in their areas."
The Home office refused to comment on whether Mrs May would meet Sir Hugh to discuss his concerns.