Birthday Honours: Adele joins Blackadder stars on list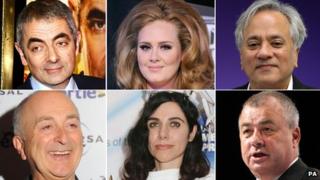 Blackadder actor Tony Robinson has been knighted in the Queen's Birthday Honours on a list that also includes his co-star Rowan Atkinson.
Sir Tony is famed for his role as long-suffering manservant Baldrick to Atkinson's Blackadder character on the BBC historical comedy series and his catchphrase "I have a cunning plan".
He is recognised for his public and political work, while Atkinson's CBE is for services to drama and charity.
Sculptor Anish Kapoor and former secretary general of the TUC, Brendan Barber, are among the other knights.
Chart-topper Adele follows up her best song Oscar win with an MBE, and the same honour goes to singer-songwriter PJ Harvey and comedian Rob Brydon.
There are OBEs for broadcaster Clare Balding, golfer Paul Lawrie, Red Bull Formula One team principal Christian Horner and novelist Jackie Collins.
Former Lib Dem leader Sir Menzies Campbell joins the elite Companions of Honour, along with the director of the Tate, Sir Nicholas Serota, for services to art.
A total of 1,180 people are named on the Birthday Honours list - nearly half of them women - and with 72% of the recipients people who are actively engaged in charitable or voluntary work within their local communities.
The list recognises 28 head teachers, with knighthoods or damehoods for five, including Kenneth Gibson, who leads two Tyneside schools described as "beacons of hope" in a deprived area.
Wendy Parry, who helped set up the Foundation for Peace after her 12-year-old son Tim - and three-year-old Johnathan Ball - were killed in the 1993 Warrington bombing by the IRA, is made an OBE.
The charity co-founded with her husband Colin, who received the same honour himself in 2004, helps support people harmed by political violence and terrorism and Mrs Parry said: "Everything we have done in the past has been to keep Tim and Johnathan's names alive. This could be another thing that will help do that."
Olympic designs
Sir Tony's knighthood recognises his "lifetime of public and political service with a career as an actor, theatre director, children's author and television presenter".
The 66-year-old said he had been left "a little gobsmacked".
"I also pledge that from this day on I'll slaughter all unruly dragons, and rescue any damsels in distress who request my help."
The one-time member of Labour Party's National Executive Committee added: "I'll use my new title with abandon to highlight the causes I believe in, particularly the importance of culture, the arts and heritage in our society, and the plight of the infirm elderly and their carers."
Rowan Atkinson, who first found fame as part of the team behind Not The Nine O'Clock News in 1979 before going on to star in Blackadder - transmitted by the BBC for the first time exactly 30 years ago on Saturday - went on to find international stardom as the bumbling Mr Bean.
He said his CBE was a "genuine surprise and... a great honour".
The same honour also goes to ceramic artist Grayson Perry and veteran screen and stage actress Claire Bloom, who suggested her years in the limelight would not prevent her being nervous about attending an investiture at Buckingham Palace.
Brendan Barber, 62, led the TUC from June 2003 until his retirement at the end of 2012 and his knighthood was said to be for his work as "the most visible ambassador and champion for the trade union movement over the last decade".
India-born Sir Anish's achievements include the ArcelorMittal Orbit - the 115m (377ft)-high twisted steel tower in the Olympic Park in Stratford.
Others whose designs became synonymous with the 2012 London Games are also on the list.
Thomas Heatherwick, the designer behind the Olympic cauldron, has been made a CBE, while there are OBEs for Edward Barber and Jay Osgerby, who designed the London Olympics and Paralympics torch.
Two MPs are knighted - former Public Accounts Committee chairman Edward Leigh, and Lib Dem Andrew Stunell, who helped negotiate the government's Coalition Agreement - and there is a CBE for former Scottish Tory leader David McLetchie.
A knighthood goes to Scotland's most senior policeman Stephen House, the first chief constable of the Police Scotland national force, and ex-Met Police deputy assistant commissioner Sue Akers, who led the investigations into phone hacking until her retirement last year, is made a CBE.
Other new knights include Nigel Bogle, co-founder of advertising agency Bartle Bogle Hegarty; John Lewis chairman Charlie Mayfield, and Wales' richest man, billionaire venture capitalist and philanthropist Michael Moritz, whose donation of £75m kicked off a scholarship programme at Oxford University.
Diana Ellis, executive chair of British Rowing; Nicola Anne Cullum, professor of nursing at the University of Manchester; author Hermione Lee, professor of English literature at the University of Oxford, and collector and philanthropist Janet Wolfson De Botton are among the Dames.
Others appointed OBE include fashion journalist Hilary Alexander, GQ magazine editor Dylan Jones, and Labyrinth author and founder of the Women's Prize for Fiction, Kate Mosse.
Singer and broadcaster Aled Jones, actor, director and playwright David Haig and Chocolat author Joanne Harris all become MBEs.
From the field of health, there is a knighthood for Professor Peng Tee Khaw, from Moorfields Eye Hospital in London and one of the foremost ophthalmologist researchers in the field of glaucoma and ocular healing.
A scientist who identified one of the genes that causes breast cancer has also been knighted. Prof Michael Stratton's research on the Cancer Genome Project at the Sanger Institute has improved diagnosis and treatment.
Hugh Pennington, emeritus professor of bacteriology at the University of Aberdeen, is made a CBE and Stephen Myers, the Belfast physicist who helped find the Higgs boson particle, an OBE.
University of Southampton professor Nigel Shadbolt, an expert in web science and co-founder of the Open Data Institute with world wide web inventor Sir Tim Berners-Lee, is knighted, as is David Scott who led the UK's digital TV switchover project.
The birthday honours are the second time the Cabinet Office has published details of why recipients of the highest awards have been chosen. The citations followed a complaint from MPs on the Public Administration Select Committee that the process should be more transparent.
The sporting honours also include MBEs for nine-time women's World Professional Darts champion Catrina Gulliver, and former Warwickshire cricket player Wasim Khan, for services to the sport and the community.
Among the others made MBEs are Mark Edwards, master boatbuilder whose team created the Gloriana rowbarge that led the Diamond Jubilee river pageant, and Clare Smyth, chef patron at Restaurant Gordon Ramsay and the first British female to hold three Michelin stars.
The BBC's Sue Lloyd-Roberts becomes a CBE for services to journalism while news presenter Julia Somerville's OBE recognises her work chairing the advisory committee on the government art collection.
Helen Butler, the president of the Red Squirrel Trust, becomes an MBE for her work helping to conserve the animals on the Isle of Wight, while Robert Bryant, founder of a club supporting people recovering from strokes in Cheshire, and Anne Bickmore, who founded the charity abcfund to help underprivileged children in East Sussex ,are among the 297 recipients of the British Empire Medal.
Britons named on the Diplomatic Service and Overseas list for work aboard include Kevin Fitzgerald, chief of the Copyright Licensing Agency and chairman of the charity, Prisoners Abroad, who is made a Companion of the Order of St Michael and St George (CMG); Jane Nicholson, founder and chairwoman of the UK-Romanian children's charity, Fara, who becomes an MBE, and the UK ambassador to Algeria, Martyn Roper, an OBE in recognition of his response to the In Amenas hostage crisis.