Archbishop of Canterbury and Pope meet for first time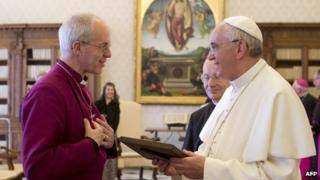 The Archbishop of Canterbury has met Pope Francis for the first time since the pair became leaders of their respective Churches in March.
The Most Reverend Justin Welby's visit to Rome has been described as brief and informal, allowing the two Church leaders to become acquainted.
Pope Francis said they shared a common desire for economic and social justice.
The Roman Catholic leader in England and Wales, Archbishop of Westminster Vincent Nichols, is also on the visit.
Alan Johnston, the BBC's Rome correspondent, said the Pope had spoken of the need to listen to "the cry of the poor", and ensure that they were not abandoned to the laws of the markets.
The Vatican has praised Archbishop Welby, who has spoken out against plans to allow same-sex couples to marry, for working with Roman Catholic leaders in Britain to "safeguard" marriage and other Christian values.
The archbishop became leader of the Church of England - and leader of the worldwide Anglican Communion - in March, days after Pope Francis was inaugurated as the Supreme Pontiff of the Roman Catholic Church.
The Pope said this was a "particular reason to support one another in prayer".
But in his Vatican address, the Pope described the relationship between the two Churches as "long and complex, and not without pain".
He touched briefly on tensions that arose when his predecessor set up a structure that helped unhappy Anglicans defect to Catholicism.
He said he was grateful for the "sincere efforts" the Church of England had made to understand why Pope Benedict XVI established the personal ordinariate.
Archbishop Welby, who is visiting Rome with his wife, wore, as is customary for visiting archbishops, an episcopal ring given to Archbishop Michael Ramsey by Pope Paul VI in 1966.