CCTV footage reveals domestic care neglect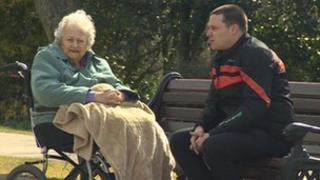 The BBC has obtained footage showing multiple failings in the home care provided by a company to one woman - as ministers warn the next abuse scandal may come in the sector.
The videos, recorded by the family of Muriel Price, 83, show carers failing to turn up for visits or turning up late, causing Mrs Price great distress.
The company involved say they were never informed the family had concerns.
They say the care of patients is of paramount importance to them.
Care minister Norman Lamb is hosting a summit with domiciliary care providers and carers on Thursday in an attempt to improve standards within the industry.
Mrs Price's grandson installed two CCTV cameras in her house in Blackpool, Lancashire, to monitor her movements and to provide help should she fall when she was home alone.
'Absolutely disgusting'
Instead they recorded carers failing to turn up when they should and behaving inappropriately on occasions.
One scene shows Mrs Price in great distress prior to her carer arriving. The grandmother, who is incontinent, had been in bed for 13 hours as her carer was nearly one hour late. She had tried and failed to contact her care company, carers, family and neighbours for help.
"Disgusting this is, absolutely disgusting," she is heard to cry out. "It's not good enough, I can't put up with it much longer."
She then quietly sobs before crying out for Les, her husband of 63 years. He was her primary carer prior to his death.
"I'll be here till 12 o'clock until the next one comes along, I bet. It's always the same."
Eventually a carer does appear, 55 minutes late.
In the footage seen by the BBC, which covers a period of nearly a month, carers turn up late or not at all on at least 12 occasions. Several other visits are much shorter than the one hour the carers are contracted for.
While some carers were professional, the footage shows examples of others who clearly were not.
The footage shows one carer sticking her fingers in food to check its temperature, another changes incontinence pads in full view of the street.
'No dignity'
And though Mrs Price is an insulin dependent diabetic with special dietary requirements, one carers admits to not being able to cook. "I can't fry an egg. I am really that rubbish at cooking. Why they send me to people at dinner time; it's beyond me," she can be heard saying.
"The way they treat old people is wrong, just wrong," says Mrs Price, looking back on her experience. "You'd be waiting for your tea and you didn't get any tea cause they never turned up, they never bothered. And you'd ring them up and they'd say we'll be sending someone along but they never did."
Her grandson, Darryl Price, who arranged for the care company to look after Mrs Price, looks back with regret.
"To see someone in your family treated with no respect, no dignity, you question yourself and in a way you feel guilty. You're the one who's put that home care company in there, you've trusted this company to look after them."
The BBC showed the footage to Norman Lamb ahead of his meeting with domiciliary care providers and carers. He said the current system resulted too often in poor care, low wages and neglect.
"It's just shocking and depressing because this is neglect in your own home," said Mr Lamb in reaction to the videos.
Talking about the wider domiciliary care sector, he went on: "We know this is not an isolated case. There is some very good care, and we should celebrate that, but where poor care exists we should not tolerate it."
He later told BBC News: "In a way you're almost at your most vulnerable when it's behind a closed door, it's you and a care worker and potentially poor things, dreadful things can happen in those circumstances."
He said a number of companies were failing to provide a complete service and all too often councils were taking part in a "race to the bottom", choosing the cheapest bid when awarding contracts.
The company who provided Mrs Price's care is Mosaic Community Care, based in Preston. The family say they repeatedly contacted the company with their concerns and have provided phone records to the BBC which indicate that calls were made.
But in a statement, Mosaic said it was an award-winning care provider.
It went on: "At no time were any issues raised with Mosaic by the family. Any concerns would have been dealt with via the appropriate channels.
"Mosaic go above and beyond their legal requirements when employing carers to ensure all staff are capable of delivering quality care to their clients. The care of patients is of paramount importance to Mosaic."
Referring to the telephone records, it says: "The length of a call does not provide conclusive evidence as to the content of the call."
Muriel Price is now happily living in a care home. "I'm lucky I have a family to look after me," she says. "Those that haven't got a family, God help them, poor devils."