Constance Briscoe to be charged over Huhne points case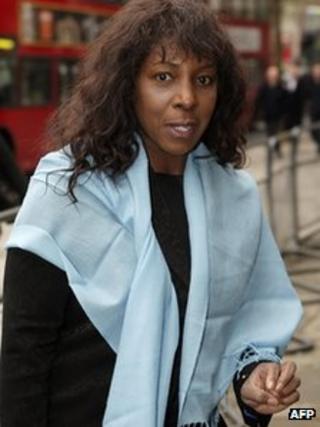 Barrister and part-time judge Constance Briscoe is to be charged with two counts of intending to pervert the course of justice, prosecutors say.
It is alleged she gave inaccurate statements to police investigating the speeding points case that saw ex-minister Chris Huhne and his ex-wife Vicky Pryce jailed.
Ms Briscoe, 56, is accused over statements given to Essex Police between May 2011 and October last year.
She has denied the allegations.
The first count alleges that, between 16 May 2011 and 6 October last year, she provided Essex Police with two statements that were inaccurate, the Crown Prosecution Service (CPS) said in a statement.
The second alleges that on 6 October last year she produced a copy of her witness statement that had been altered and maintained that it was the correct version.
'Deeply distressed'
CPS senior lawyer Deborah Walsh said the CPS had decided there was sufficient evidence for a realistic prospect of conviction and charges were in the public interest.
Ms Briscoe is due to appear at Westminster Magistrates' Court on 24 June.
In a statement, Ms Briscoe said: "I am deeply distressed at the decision of the Crown Prosecution Service to charge me today. I have not committed the offences alleged against me and I will fight the allegations in court.
"There is a great deal more I would like to say now but I have been advised that I should not do so at this stage.
"I ask only that no judgement is reached against me on the basis of this prosecution decision and before the full facts are heard.
"I will make no further comment."
Former Liberal Democrat Huhne, 58, and Pryce, 60, both served two months of an eight-month sentence for perverting the course of justice after Pryce took his speeding points for him.
They were released last month.
The speeding incident took place in March 2003 when Huhne's BMW car was caught by a speed camera on the M11 between Stansted Airport, in Essex, and London.
'Witness of the truth'
Huhne, a former energy secretary, changed his plea to guilty on the first day of his trial in February after failing to have the case dismissed. He resigned as an MP on the same day.
Pryce was found guilty in March after a retrial. The first jury failed to reach a decision.
Ms Briscoe, a neighbour of Pryce in Clapham, south London, was arrested in October 2012 and suspended by the Office of Judicial Complaints.
It had been expected that Ms Briscoe would give evidence during the Pryce trial.
However, the prosecution dropped her as a witness, telling the court she could no longer be put forward as a "witness of the truth" because she was being investigated by police on suspicion of perverting the course of justice.
The charges are the result of that investigation.