French air traffic strike grounds UK flights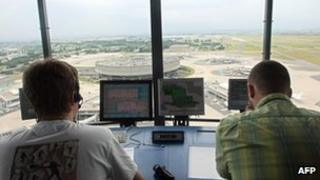 More than 250 flights in and out of the UK have been cancelled after a two-day strike by French air traffic controllers.
Staff are protesting against EU plans to create a single European airspace.
Passengers in the UK are being advised to check with their airline to see if services are running.
Flights to Paris, Nice and Lyon are among those affected, but there have also been warnings of delays of up to four hours to other European locations.
A third day of strikes planned for Thursday has now been called off.
'Inefficiencies'
Budget airline Easyjet says it has cancelled 200 flights over the two days, including 92 to or from the UK. Ryanair has cancelled 400 services across Europe, with at least 160 in and out of the UK.
London's Gatwick airport said a total of 45 flights had been cancelled on Wednesday, all of which were travelling to and from French destinations. At Heathrow 40 services were grounded, while seven Manchester services and five Edinburgh flights were also cancelled.
Meanwhile British Airways has cancelled at least 12 flights, affecting Lyon, Nice, Paris and Toulouse services.
A notice on BA's website said there may also be delays to services from Spain and North Africa because of French airspace restrictions.
A spokesman for Glasgow Airport said a "couple" of Jet2.com flights to Malaga and Alicante were subject to delays of three to four hours.
Southend Airport says it has cancelled one flight to Edinburgh and one flight to Alicante.
The strike follows plans by the European Commission, which drafts EU laws, to overhaul European aviation.
It estimates inefficiencies in the way Europe's air traffic is managed add 42km (26 miles) to the average flight, so it wants to centralise air-traffic controls, rather than leave each member state to monitor its own skies.
Compensation
The commission says this could triple the region's airspace capacity, cut costs and reduce delays.
But the controllers say the Single European Sky (SES) project will affect public safety and their working conditions.
Travel group Abta said the industrial action was "deeply regrettable" and "penalises holidaymakers".
Travel editor for the Independent newspaper Simon Calder told the BBC passengers may not be entitled to compensation because the disruption was not the fault of the airlines.
"What you are entitled to, though, whatever the cause of the delay, is a duty of care from the airline; they have to provide meals and accommodation until they can get you to your destination," he said.
"But the problem for a lot of people whose flights have been cancelled is that you don't automatically go on the next plane, you actually go to the back of the queue and are fighting for the last remaining seats on forthcoming flights.
"So some of the people whose flights are cancelled today, for example, may not get where they're going perhaps until the weekend."