New sexual abuse prosecution guidelines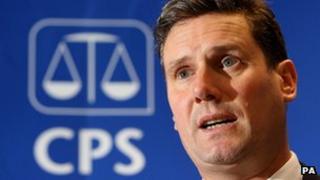 Police and prosecutors have been given new guidance on how to deal with allegations of child abuse and exploitation.
Prosecutors have been told to focus on the credibility of allegations, not on whether victims make good witnesses.
The guidance aims to improve the way allegations are investigated in England and Wales.
The Crown Prosecution Service and College of Policing hope it will lead to stronger prosecutions.
The change comes after complaints that too many cases have been dropped before trial because of fears that the allegations would not stand up to scrutiny.
One of the most serious recent prosecutions of sex abuse and street grooming - in which 10 men were convicted - was initially shelved because of doubts over the credibility of the victims as witnesses.
Director of Public Prosecutions Keir Starmer said in future, prosecutors should test the credibility of the allegation rather than focus solely on questions about the victim.
The Crown Prosecution Service is also launching a panel to review cases where no prosecutions have so far been brought. The cases of four people who have made past allegations against three suspects have already been referred to the panel which meets for the first time next month.
The interim guidance from the CPS says that victims in sex abuses cases can be told of the existence of others who have made similar allegations against their alleged attacker.
This change has been introduced after it emerged that some of Jimmy Savile's victims were reluctant to pursue their individual complaint because they thought they were the only accuser.
The DPP said: "These guidelines are informed by those involved in protecting children, and it is the valuable contribution of all those who attended the round-table discussions that has helped to ensure that they are comprehensive and demonstrate the radically new approach we will now be taking.
"Now it is for the public to let us know if they believe we are in the right place and, I hope, to take assurance from the fact that police and prosecutors have worked together to produce this document.
"We are, without doubt, at a moment of fundamental change in the way we view these offences within the criminal justice system, and in our society as a whole."
Police guidance
The new guidance published by the College of Policing tells officers about the key warning signs of child sexual exploitation and how detectives can best manage these complex and sensitive investigations. It details how offenders groom victims by first wining their trust before they begin to sexually exploit them.
Chief Constable Dave Whatton who worked on the guidance said: "Listening to the feedback and challenge from victim support groups as part of the roundtable consultations has resulted in proposals for some tangible improvement in our approach.
"I hope over the next phase of consulting that we can develop guidance which will set a new standard for the police investigation of these complex investigations and help police officers and other professionals in their important work."