Hand grenades 'rare - but they're out there'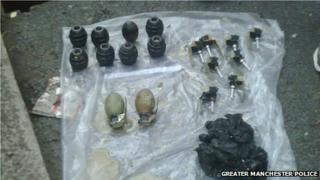 Dale Cregan's killings of David Short and PCs Nicola Hughes and Fiona Bone are the first time hand grenades have been used as murder weapons in Great Britain.
Following Cregan's conviction it can be reported that on 3 June Greater Manchester Police found 10 grenades at an address in Oldham, believed to be the rest of his supply.
At Cregan's trial, a witness told the court that at one time the killer had had a bag of around 20 hand grenades.
Firearms experts have told the BBC that while criminal possession of grenades is rare, some are still on the streets.
Figures from the National Bomb Data Centre at Scotland Yard show that between January 2008 and September 2011 police recovered 42 grenades.
During that period - which does not cover Cregan's killings - there were eight recorded explosions, most of which were attributed to one criminal gang in Merseyside.
Police have consistently said there is nothing to suggest grenades are a growing problem, but in the aftermath of the killings of PCs Hughes and Bone, there was some concern that grenades were still on the streets of Manchester.
Grenades acquired by criminals in the UK come from two main sources, experts told the BBC - leftover grenades from conflict in Eastern Europe and dummy grenades that have been re-activated.
Stockpiles of weapons
The grenades used by Cregan originated from the former Yugoslavia.
"Clearly post the Balkans breakup, there were a vast quantity of weapons that were then taken by, in the main, organised criminals and were then sold to the highest bidder," says Charlie Edwards, who is director of national security and resilience studies at the Royal United Services Institute and previously worked on security and counter-terrorism at the Home Office.
"Some of those in the early 1990s certainly found their way to Northern Ireland. It was a bonanza for Northern Ireland terrorists in terms of the quantity, and certainly a small amount of those weapons - including grenades - would have been sold to organised criminals over the years."
Although it is not yet clear how long ago the grenades used by Cregan came to the UK from Eastern Europe, an investigation by BBC Radio 5 Live Breakfast has revealed there are still 17,000 tonnes of surplus weapons and ammunition stockpiled in Bosnia and Herzegovina alone.
The UN and an international mission run by the Organisation for Security and Cooperation in Europe (OSCE) - which includes the UK - are working to secure and destroy those huge stockpiles because there are fears the weapons will put the civilian population at risk, could get on the black market, or be stolen.
Lt Cdr Gareth Jones, of the Royal Navy, who is in Bosnia providing advice on how to dispose of the weapons, told the BBC that the commander of the UK mission, General Sir Richard Shirreff, thinks the work to deal with weapons surpluses is not being done quickly enough.
Lt Cdr Jones said: "With multiple sites and these weapons not being destroyed at the rate that everybody would like them to be, there are risks there.
"There are risks to safety from how the sites are managed and there's a risk of what would happen if one of these sites were broken into and weapons were taken."
Matt Eades, who was in the army for 25 years and is now a project manager for explosives company Alford Technologies, says grenades from the former Yugoslavia are similar to those used by the British army. He describes them as "a nasty bit of kit up close".
Both he and firearms expert Phillip Boyce say the free movement of people within the European Union has made it easier for people to bring weapons across to the UK.
But grenades are not just smuggled through customs - de-activated grenades can be bought on the internet for as little as £45 and re-activating them is "fairly easy", says Mr Boyce.
"The easiest way is to cut open 12-gauge cartridges - or any ammunition - and use that," he explains.
"It's surprising it's not more common."
Without high pressure explosives, though, they are not as powerful as the military-grade grenades.
Peter Kirkham, who was a detective chief inspector in the Metropolitan Police, says grenade attacks are so rare because they are more imprecise and indiscriminate in their impact than guns.
He dealt with one grenade incident in his 21-year police career - one was thrown into a pub in Fulham, west London, in 1985.
They have typically been used more as a threat by organised criminals, than as a weapon to injure and kill.
Even in a military setting they are normally used alongside other weapons rather than as the main weapon of choice.
The last well-known case of grenade use by criminals in the UK, prior to Cregan, was also in the north-west of England.
Merseyside-based men Kirk Bradley, Craig Riley, Joseph Farrell and Anthony Downes were sentenced to life in prison for firearms offences in 2012, having carried out a series of shootings and leaving a hand grenade on the garden wall of former Liverpool Football Club manager Kenny Dalglish in a botched attempt to attack his neighbour.
The police have always said there is minimal danger of grenades being used by criminals.
But - former government security expert Mr Edwards warns - despite grenade attacks being rare, there is still uncertainty about weapons criminals have access to.
"I think we should bear in mind that no-one has a really credible number of how many illegal weapons there are floating around the UK," he says.
"What I have seen is that it is at best an estimate and it is based on what they have retrieved in the past."