English Defence League leader condemns attacks on Muslims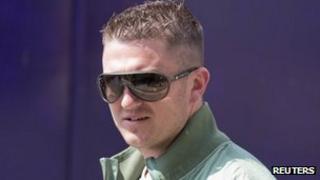 The leader of the English Defence League has told the BBC he "utterly condemns" attacks on Muslims.
Tommy Robinson denied claims his group had firebombed an Islamic community centre in London, where the letters EDL were sprayed on the building.
He admitted some of its tactics were "completely questionable", but said "working class people" had no choice.
Fiyaz Mughal, from interfaith group Faith Matters, said Mr Robinson's condemnation was "hollow".
"He is on record as saying he wants to teach Muslims a lesson," Mr Mughal added.
Mr Robinson was speaking after six men were jailed for planning to bomb an EDL rally in West Yorkshire.
The men, who all lived in or near Birmingham, were each jailed for more than 18 years. Their bomb plot failed because they arrived two hours after last year's rally in Dewsbury had finished.
'Completely sceptical'
Mr Robinson told BBC Radio 4's Today programme he condemned all acts of violence by EDL members and the group was about peaceful protest.
He denied his group was behind the blaze in Muswell Hill last week and said the graffiti could have been placed there to make it look as if the group was responsible.
"If something was set fire and someone wrote David Cameron on the side of it, does it mean he did it?" he said.
"If I'm honest, I'm completely sceptical that it is even non-Muslims that have done that."
The EDL describes itself as an "inclusive movement dedicated to peacefully protesting against Islamic extremism".
The group says it wants three things - the government to outline a "convincing strategy" for defeating Islamist extremism, the Muslim community to make "serious efforts" to counter extremism, and an open and honest debate about the issue.
It frequently holds demonstrations and has staged several since the killing of soldier Lee Rigby in Woolwich, south-east London.
Mr Robinson told the BBC "non-Muslim working-class communities" did not have a voice and warned "it's not going to end pretty".
"There is a massive undercurrent of anger across this country," he said.
Internment call
He continued: "Our tactics are completely questionable, yes, and I understand people who say you are going about it the wrong way, but what choice do we have as working class people, who, as soon as you put your head above the parapet, you are called a racist or a fascist?
"Who wants to sit down and talk to us?"
He called for the internment of Islamist extremists "recruiting on our streets" and the outlawing of all aspects of Sharia law, which he believed was operating in the UK.
"I'd stop the building of mosques in this country until Islam reforms in such a way and works in this country with Western democracy and freedom," he added.
Mr Mughal told the BBC News website: "You can't stop people having places of worship. That, in itself, is discriminatory.
"Democracy and Islam can live together. It's not Islam that's the problem, it's extreme elements within the Muslim community.
"Those elements develop because vulnerable young men come to believe inspirational leaders with extreme views."
'Intimidation'
He said Mr Robinson had become "an exact copy of what he says he is campaigning against" by targeting his message at disenfranchised young white men.
"If Tommy Robinson really wants to make a difference to the white working class community he should stand up for better training, better job opportunities, better aspiration - not just scapegoat the Muslim community."
Shaista Gohir, chairman of the Muslim Women's Network UK, told the BBC's Today programme the group had noticed a spike in reported incidents of abuse against Muslim women in the wake of the Woolwich murder.
"A lot of it was verbal abuse. Also intimidation while driving, which could lead to accidents. It was food and drink being thrown at them," she said.
"The insults were really awful, mums with their children. Definitely the incidents are getting worse. It's almost as if it's acceptable to do that kind of thing."