Prisoner voting: Murderers challenge ban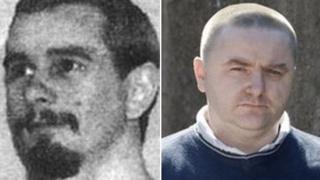 Two prisoners convicted of murder have taken their fight for the right to vote to the UK's highest court.
Under current UK law, only prisoners on remand are entitled to vote.
The cases of Peter Chester and George McGeoch are being considered by judges in a two-day Supreme Court hearing.
Seven law lords are considering whether European Union (EU) law gives convicted prisoners the right to vote in local and national elections and European parliamentary elections.
Chester, who is in his 50s, is serving a life sentence for raping and strangling his seven-year-old niece in Blackpool in 1977.
His challenge comes after three Court of Appeal judges dismissed his case in 2010.
His case centres on whether the court should declare that the ban preventing him from voting is "incompatible" with his rights under EU law and the European Convention on Human Rights.
McGeoch, from Glasgow, is serving a life sentence for the murder of Eric Innes in Inverness in 1998.
'Respect rights'
Aiden O'Neill QC, representing McGeoch, told the first day of the hearing on Monday the question was whether a British citizen could "claim EU rights against his own government, in particular voting rights".
"The government is bound to respect rights, including EU rights," he said.
The panel of judges will also hear submissions in response to the pair's appeals by the Attorney General Dominic Grieve.
The UK has been on a collision course with Strasbourg since 2005 when the European Court of Human Rights (ECHR) ruled that the ban was a breach of human rights, following a challenge by convicted killer John Hirst.
Last year, a spokesman for the Council of Europe, which oversees the court, called on the UK to "move forward" and comply with the ruling.
The UK government is expected to tackle the issue later this year.
The Voting Eligibility (Prisoners) Draft Bill, which puts forward three options - keeping the existing blanket ban, giving the vote to convicted prisoners serving up to six months or giving it to those serving up to four years - was published in November.
At the time, Justice Secretary Chris Grayling told MPs they could vote to defy the ECHR ruling but warned there would be "a political cost" in doing so.
A month earlier, Prime Minister David Cameron told MPs: "No-one should be under any doubt - prisoners are not getting the vote under this government."
The Supreme Court hearing comes days after a committee of MSPs threw out a bid by two MSPs to give prisoners the chance to vote in next year's Scottish independence referendum.