Prince Philip doctor visits London Clinic hospital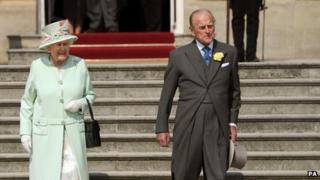 The doctor treating the Duke of Edinburgh is believed to have visited him as he begins his third day in hospital.
Prof John Cunningham spent around 30 minutes at the London Clinic, where Prince Philip is said to be "progressing satisfactorily".
He had undergone exploratory abdominal surgery under general anaesthetic.
Prince Philip, who will be 92 on Monday, is expected to stay in hospital for about two weeks.
The Queen will spend the weekend at Windsor Castle, said BBC royal correspondent Peter Hunt.
Buckingham Palace said on Thursday the hospital admission was pre-arranged and not an emergency.
It issued a short statement after the surgery, saying the duke "has had an exploratory operation following abdominal investigations. At this early stage he is progressing satisfactorily.
"Further updates will continue to be issued when appropriate."
The results from the surgery would now be analysed, the palace said.
On Friday, the day of the operation, the Queen officially opened the BBC's rebuilt Broadcasting House in central London.
The Duke of Edinburgh had been scheduled to accompany her on the visit.
The Queen was escorted on the first part of her visit by director general Tony Hall and BBC Trust chairman Lord Patten, who wished the Duke of Edinburgh a quick recovery.
The Queen made a live broadcast on BBC Radio 4 - in which she officially declared the building open - watched a live performance by The Script in Radio 1's Live Lounge and toured the BBC newsroom.
The visit brought the Queen to the window visible behind the News Channel newsreaders live on air.
After BBC staff around her then burst into a spontaneous round of applause, presenter Simon McCoy described the moment as "one of the most bizarre bits of television that the BBC has produced for some time".