Riot victims 'still to be paid compensation'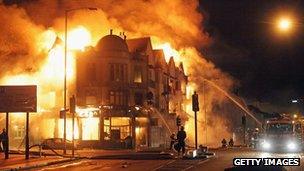 More than £200m of government cash set aside for victims of the 2011 England riots has not been paid out, Labour MP Steve Reed has said.
The MP for Croydon North accused the government of abandoning people once media interest in the affected areas passed.
He said victims felt like ministers had "given up on them and walked away".
The Home Office said more than 99% of uninsured claims had been settled following the riots.
Speaking in a debate in Parliament, Mr Reed told MPs: "It's almost two years now since the riots hit Croydon.
"Businesses were burnt to the ground, shops were looted, homes were destroyed, the prime minister and mayor of London walked along the devastated London Road in the central point of Croydon and promised people they would not be forgotten, and while the state had failed to protect them during the riots it would stand by them as they try to rebuild their lives.
"They feel completely abandoned by a government that promised to help them when the TV cameras were on, but walked away when the media glare died down."
Figures released by the Metropolitan Police under the Freedom of Information Act show that 3,447 people applied for compensation, totalling £250m, but so far only £35.8m has been paid out.
Mr Reed said the government continued to claim that the the majority of cases had been settled, but he said this had not been "to the satisfaction of the people who were affected".
Mr Reed told of cases where people were still being asked to pay mortgages on buildings which had burned down and also asked the government to look into disputed claims.
David Lammy, Labour MP for Tottenham, voiced concerns about insurance premiums rising in areas damaged during the riots, which could result in some boroughs having no insurance cover at all.
A Home Office spokesman said: "More than 99% of uninsured claims have been settled following the riots.
"There are a small number of uninsured compensation claims still outstanding in Croydon, centred around a block of connected residential and commercial buildings.
"The Home Office is working closely with the Metropolitan Police, the mayor's office, insurers and Croydon Council to settle the remaining claims as quickly as possible."