Coroner requests public inquiry into Litvinenko death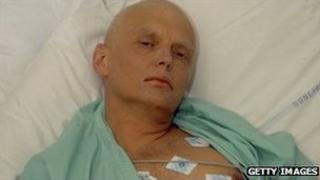 A public inquiry into the death of former KGB spy Alexander Litvinenko has been requested by the coroner in charge of his inquest.
Sir Robert Owen has written to the justice secretary to call for an inquiry after ruling the inquest could not hear evidence linked to alleged Russian state involvement.
A government spokesman said it would carefully consider the request.
Mr Litvinenko was poisoned with radioactive polonium in London in 2006.
Last month the coroner accepted a request by Foreign Secretary William Hague to exclude certain material from the inquest on the grounds its disclosure could be damaging to national security.
This meant the inquest would be unable to look at whether the Russian state was behind the killing or whether the British state could have done more to protect Mr Litvinenko.
'Matter of urgency'
At the time, Sir Robert said that without such material any verdict would be "potentially misleading and unfair".
He flagged up the possibility of a public inquiry instead of an inquest as the inquiry would allow evidence to be heard in secret.
Mr Litvinenko, 43, died after he was poisoned with polonium-210 while drinking tea at London hotel.
The former spy's widow Marina Litvinenko has asked for a public inquiry to be established as a "matter of urgency".
The family believe Mr Litvinenko was working for MI6 at the time of his death and was killed on the orders of the Kremlin.
Mrs Litvinenko has said a public inquiry is the only way to find the truth about the death of her husband.
The inquest into Mr Litvinenko's death has already faced major delays because both the UK and Russian governments have been slow to disclose documents.
Police have sought the arrest of two Russian nationals in relation to the death - Andrei Lugovoy and Dmitri Kovtun - but the Russian authorities have refused to hand them over. They deny any involvement.
Although the coroner has written to the Ministry of Justice, the decision will be for the relevant departments involved - the Home Office and the Foreign Office.