Ex-Dragons' Den star Caan says his daughters earned jobs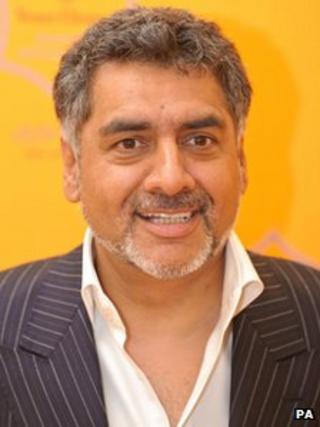 A former Dragons' Den entrepreneur who said parents should not help their children get jobs has defended his daughters' work for his firms.
James Caan's daughter Jemma is employed by a firm he "has an investment in", while her sister Hanah got an internship at his private equity firm.
He said the recruitment processes were "thorough" and "rigorous".
Mr Caan, the government's new adviser on social mobility, said earlier that children should "find their own way".
He told the BBC job prospects should not depend on "who you know rather than what you can do".
'Open to all'
On BBC Radio 4's Today programme, he said he understood why parents wanted to help.
But he said: "I think allowing children the opportunity to develop and find their own way through life is very good for society and very good for the kids."
On being questioned later about his daughters' employment opportunities, Mr Caan said he was "no different" from other parents who wanted to help their children, but said his role as an entrepreneur was to "raise awareness that businesses should open their doors to all".
Writing on his website, Mr Caan said his daughter Jemma "spent four years of pursuing many jobs to establish herself on her own career path" before joining a recruitment company which he had invested in.
"Despite my involvement, she still had to go through a rigorous recruitment process with a number of different candidates and demonstrate her own abilities," he said.
His daughter Hanah worked in various internships before volunteering at his then start-up business Hamilton Bradshaw, and later submitted a CV and secured an internship there, Mr Caan said.
Hanah Caan is also a trustee of the James Caan Foundation, a poverty charity.
'Missing out'
Mr Caan has been chosen to lead the government's Opening Doors campaign to encourage businesses to have "open and fair" recruitment processes.
Moira McKerracher, assistant director at the UK Commission for Employment and Skills (UKCES), said: "Although it's probably unrealistic to expect people to stop helping their children, Mr Caan raises an important point.
"Our research shows that the most common way for people to get a job is now word of mouth. That might be cheap, but it's got a lot of disadvantages.
"It relies on people having social and professional networks - a 'grapevine' - which young people often don't have. When they do, it's often through their parents.
"And it narrows down the potential pool of talent for employers, who could be missing out on some fantastic staff."
A UKCES report published in March found the proportion of staff getting jobs through "word of mouth" had risen from 24% in 2010 to 29% in 2012.
The report noted there had been a "corresponding drop" in the number of employers formally advertising vacancies.
Responding to Mr Caan's appeal to parents, a spokesman for David Cameron told a Westminster briefing: "In this area, I think you would expect every parent to want the best for their children.
"I think what's really important here is that, no matter where you are from, you should be able to succeed and fulfil your potential."