Cheap energy deals still too hard to find, Which? survey warns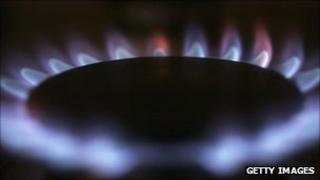 Proposals to simplify energy pricing are still too complex, a consumer group has warned.
A Which? survey found more than seven out of 10 people failed to find the cheapest deal using Ofgem's tariff comparison rate (TCR).
The watchdog called for energy costs to be displayed in the same way as petrol tariffs, using single unit prices.
Energy regulator Ofgem rejected the findings, saying the research was "misleading".
The TCR aims to allow consumers to easily compare the price of different tariffs across the market, giving them an indication of the cheapest deal based on an assumption of medium usage of both gas and electricity.
'Think again'
But the Which? survey - which questioned 2,008 adults from 3-19 May - found that two thirds of people (65%) preferred the petrol forecourt-style single unit pricing system, compared with 10% who preferred the TCR.
Consumers also scored the single unit format highly for ease of understanding (62%), speed of use (63%), and helpfulness (53%), Which? said.
Just 4% of those who viewed the TCR format told Which? that they would check their usage to ensure they had made the right choice, while 57% were not able to find their energy bill at all.
More than half of those surveyed (55%) had never compared their energy tariff with others on the market to check if it was worth switching, with just a quarter (24%) switching suppliers in the last two years.
Which? executive director Richard Lloyd said the complexity of the system was a "major problem".
He told BBC Breakfast: "If this reform that's all about making the market simpler and work better for consumers doesn't achieve that, then it doesn't make sense at all. They've got to think again."
Ofgem spokesman Philip Cullum told the same programme the consumer group's survey was "extremely misleading".
He said: "What they've done is to greatly simplify their own proposal, which of course has made it look better in the comparison.
"One of the complexities of this market is about how you take account of things like the discounts we know consumers like - in terms of things like dual fuel discount or if you get your bill online or pay by direct debit.
"Our comparison does do that... what's misleading about the Which? research is they've simply ignored that - they've just assumed there is a single price.
"They're not being straight about their own policy."
'Unintended consequences'
He said Ofgem was taking "much tougher" action to make energy companies tell consumers which tariffs were available so they could make informed choices.
Energy Minister Greg Barker told the BBC: "We're going to be looking very carefully at this report.
"Unfortunately it's not totally straightforward. The attraction of putting our bills into the same format as petrol is, on the surface of it, very attractive indeed.
"However there could be some unintended consequences - it could potentially have an impact on some vulnerable customers, around 1.5 million customers could be adversely affected and see their bills go up."
Mr Barker defended the government's energy reforms, which also include capping the number of tariffs each company has for electricity and gas to four, ending multi-tier tariffs, and banning price increases during a fixed-term deal.
He said: "We are slashing the number of tariffs... we're taking radical action to boil that down to just four for every company, and everyone will automatically be put on the cheapest tariff for them.
"That's really good news for people struggling with their energy bills - they won't necessarily have to change to get a good deal."
He said the reforms would help new firms to enter the consumer energy market and increase competition with the "big six" suppliers - British Gas, EDF, E.On, Npower, Scottish Power and SSE.