Newspaper review: Lords lobbying claims pondered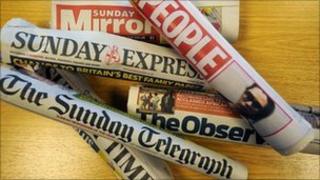 It is "high time to clean up the House of Lords", says the Sunday Times.
The paper takes that view after its reporters, posing as lobbyists, recorded three peers appearing to offer to pull strings in return for cash payments. They all deny wrongdoing.
Its editorial says that, despite the Upper House tightening its rules on conduct after the expenses scandal, guidelines are still being flouted.
It accuses the House of Lords of failing to police its own regulations and attacks successive governments for failing to tackle "an increasing rotten edifice".
Clegg demand
The Sunday Times maintains that, not only must the Lords be reformed, but Parliament must also curb the access that lobbyists have to those it says are willing to influence policy for gain.
The Independent on Sunday also picks up on that theme, reporting that there is growing pressure on Prime Minister David Cameron to impose new controls on the lobbying industry.
The paper says Deputy Prime Minister Nick Clegg is expected to demand the government honours a commitment, made by Mr Cameron, to set up an official register of lobbyists.
The Independent says the latest allegations have fuelled "public anger as it had been assumed that parliamentary sleaze had been largely eradicated following recent scandals over MPs' expenses and 'cash for access'".
Dangerous log-jam
The Observer reports that a crisis in NHS accident and emergency departments is leading to a surge in planned operations being cancelled.
It says more than 220 NHS operations a day were cancelled with less than 24 hours notice during the first three months of 2013 in England.
According to the paper, cancellations have reached a 10-year high and the Royal College of Surgeons is warning problems in accident and emergency departments are "cascading" through the health service.
The Observer says hospital beds are being "monopolised by patients attending emergency departments, creating a dangerous log-jam in the system".
A spokesman for the Department of Health tells the paper the figures need to be put into the context of millions of operations performed each year.
But he says the department expects hospitals and local NHS managers to keep the number of cancelled operations "to an absolute minimum".
Doctor Whoman?
Under the headline "Sexterminate", the Sunday Times asks if the next Doctor Who could be a woman?
It poses the question following the news that Matt Smith is calling time on the role at the end of the year.
The paper believes that having a female Doctor Who could go some way to answering recent criticism that the plots have become too dark, although it thinks some purist fans would probably be upset by such a move.
As the Sun on Sunday puts it, it may be time for "Doctor Whoman".