British man killed in Syria, Foreign Office understands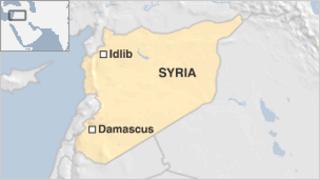 A British man has been killed in Syria, the Foreign Office understands.
According to Syrian state television, he is Ali Al-Manasifi, believed to be a 22-year-old who grew up in west London.
The Syrian Observatory for Human Rights (SOHR), a UK-based monitoring group, said the man was Muslim and might have been working with Syrian rebels, but could not confirm this.
It also said he died along with another man and a US woman. His family has been informed, the Foreign Office said.
A Foreign Office spokeswoman said: "We understand a British national has been killed in Syria. Their family has been informed and we are providing consular assistance."
'Foreign fighters'
Nicole Mansfield, 33, from Flint in Michigan, is believed to be the American woman who died.
Her family have been told by the FBI she was killed in Syria fighting for opposition forces.
Syrian TV showed a bullet-riddled car and said the three were killed when it was ambushed by government forces in northern Syria on Wednesday.
It called them "foreign fighters" and claimed they were on a scouting mission for the Syrian opposition, taking photographs of military positions.
The TV report showed documents said to be found with the bodies, including a British passport in the name of Mr Al-Manasifi.
Sources close to his family told the BBC he disappeared from London in January before calling his father to let him know he was in Syria.
All British diplomats have been withdrawn from Syria amid the escalating bloodshed between the government forces and rebels.
Last week, British volunteer doctor Isa Abdur Rahman, 26, a graduate of Imperial College London, was killed when a clinic, also in the north, was hit by a shell.