Search engines urged to block more online porn sites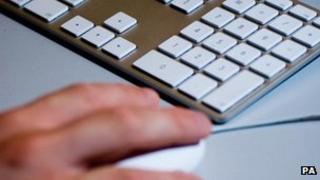 Search engines such as Google should do more to restrict access to online pornography, a government adviser on child internet safety has said.
John Carr says internet companies should block links which paedophiles use to find pictures of abuse.
It comes after a court heard April Jones's murderer Mark Bridger searched for child abuse and rape images.
Campaigners backed the call as Google said it has a "zero tolerance" policy to child sexual abuse content.
Mr Carr, a member of the government's Council on Child Internet Safety, said Google and other search engines should reset their default search setting to the safest option - blocking access to legal as well as illegal sexual images.
Those wanting to reach such material would have to register to search for other content, which would deter many from doing so, he argued.
Mr Carr told BBC Radio 4's Today programme internet search engines did prevent access to web addresses that contain child abuse images.
But he said one of the "key routes" paedophiles used to find content was through adverts containing "code words" that are placed on legal hardcore pornography sites.
He said: "Google's moral leadership is essential here. They are the biggest player in this space in the world. If they did it, I think others would have to follow."
Vile trade
Mr Carr said there was "no question" that some men who look at child sex abuse images go on to carry out abuse.
Earlier, speaking to BBC Radio 5 live he said: "There is enough evidence to suggest that if we can put more barriers towards guys getting to child abuse images, fewer of them will do it and more children will be safe."
He said between 15 and 50 per cent of men who previously had no involvement with child abuse images would go on to physically harm children once they accessed them.
It has been suggested that some internet companies are reluctant to change their search settings as it would drive users to sites unwilling to change their policy and put them at a competitive disadvantage.
Children's charity the NSPCC said April's killing highlighted the increasing evidence of a link between disturbing and violent images of children online and serious sexual assaults.
"April's death will hopefully lead to effective measures to stamp out this vile trade," acting chief executive Philip Hoyes said.
'Personal' involvement
Google's director of communications and public affairs, Scott Rubin, says the company has a zero-tolerance policy on child sexual abuse content and is already working with the Internet Watch Foundation to get rid of child sex abuse sites.
He said: "I have a little girl. For us at Google, there are many of us who are parents.
"This is personal, so we fight incredibly hard to support organisations like the IWF here in the UK, the National Centre for Missing and Exploited Children in the US, who provide us regularly with addresses of websites that contain this illegal material, and we immediately take them off our site.
"When we learn of it through our users, for example, we report it to the appropriate legal authorities and we do everything we can to respond as quickly as possible.
"I know that others in our industry do the same thing and it concerns me when I hear people claiming that we're not doing anything, because it gives parents and others the impression that companies like Google don't care - and the opposite is true. We care deeply about this."
Paedophile Bridger was found guilty at Mold Crown Court on Thursday of abducting and murdering five-year-old April in Powys last October.
Investment call
During his trial, the jury was told that police had found a library of pornography on his laptop which included violent images of children.
BBC political correspondent Chris Mason said Bridger's conviction had renewed the debate about what could be done to limit access to such material online.
Commons Home Affairs Select Committee chairman Keith Vaz told the Times newspaper that the case had shown "we need to act to remove such content from the internet".
He called for a code of conduct to ensure internet service providers "remove material which breaches acceptable behaviour standards".
A former head of the Child Exploitation and Online Protection Centre (Ceop) called for more investment in identifying potential abusers.
"We need to invest in the work that's done to identify and locate these offenders earlier, and to interdict their behaviour before they step into the real world and harm a child," Jim Gamble said.
Life sentence
Bridger, 47, of Ceinws, Powys, claimed he had accidentally run April over and could not recall where he had put her body.
But a jury unanimously convicted him in a case lasting four-and-a-half weeks.
The judge branded him a "pathological liar" and "a paedophile".
April went missing on 1 October 2012 near her home in Machynlleth, sparking the biggest search in UK police history. Her remains have never been found.
Bridger was given a whole-life tariff prison sentence, meaning he must spend the rest of his life behind bars.