Rwandans arrested in UK over 1994 genocide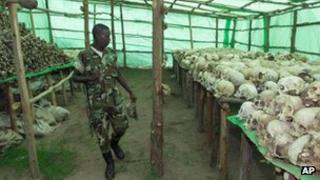 Five Rwandans have been arrested by the Metropolitan Police on suspicion of involvement in the 1994 genocide in their home country.
It follows an extradition request from Rwandan prosecutors, who want them to face trial for crimes against humanity.
In 2009, four of the men won a High Court battle to halt extradition after senior judges ruled there was "a real risk" they would not get a fair trial.
During the appeal, all four of the men denied any involvement in the genocide.
The five men were arrested by the Met's extradition unit at their home addresses at 06:30 BST.
They later appeared at Westminster Magistrates' Court.
The suspects were named as Emmanuel Ntezirayo, 51, from Manchester, Charles Munyaneza, 55, from Bedford, Celestine Ugirashebuja, 60, from Walton-on-the-Naze, Essex, Dr Vincent Bajinya, 52, from Islington, north London and Celestine Mutabaruka, 57, from Ashford, Kent.
'Significant progress'
All of the men except Mr Mutabaruka were arrested as part of the previous failed extradition attempt.
They were in custody from 2006 until 2009, when the High Court ruled they be released.
Three of the accused are former mayors of Rwandan communes.
They have been accused of taking a leading role in the genocide, when around 800,000 ethnic Tutsis and moderate Hutus were killed in 100 days.
Rwanda's chief prosecutor Martin Ngoga welcomed the arrests and said he believed all the suspects had a "case to answer".
In a statement, he said he hoped the British courts would move quickly to extradite the men, so that they could "face justice".
Rwanda had made "significant progress" on addressing concerns about fair trials since the 2009 High Court ruling, he added, pointing to recent extradition decisions by the European Court of Human Rights and Norway in favour of Rwanda as potential precedents for the British courts.
There is no extradition treaty between Rwanda and the UK, but a Memorandum of Understanding between the two countries with regard to these individuals was signed on in March, the Crown Prosecution Service said.
The men will next appear in court on 5 June.
BBC Africa editor Mary Harper said that although it was nearly 20 years since the genocide, a number of those accused of leading it were still at large - some of them in Europe.
Redress, a human rights organisation which has been helping survivors of the genocide obtain justice, welcomed the arrests.
"Nowhere, including the UK, ought to be a safe haven for those accused of genocide and related international crimes," the group said.