Woolwich murder: Lee Rigby 'had multiple wounds'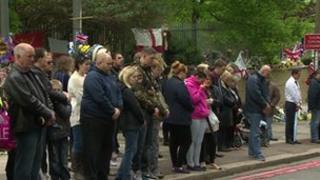 Drummer Lee Rigby died of "multiple incised wounds" after being attacked on a street in Woolwich, a post-mortem examination has discovered.
The finding was issued as police made a fresh appeal for information following the soldier's killing.
Scotland Yard said the inquest into Drummer Rigby's death will open at Southwark Coroner's Court on Friday.
A minute's silence was held in Woolwich just before 14:20 BST - exactly a week after the murder.
The silence was followed by spontaneous applause.
Drummer Rigby's fiancee, Aimee West, said she was "devastated by the loss".
In a statement released through Scotland Yard, she said: "I am extremely proud of him and I am moved by all the flowers and tributes, and that he has been remembered by the nation as the great man that he was."
Police have appealed for more witnesses to come forward, and asked the public to "continue to show restraint".
It comes as officers prepare to question one of the two suspects who were shot by police before their arrests.
Michael Adebowale, 22, who remains in custody at a south London police station, was discharged from hospital on Tuesday.
He will be questioned by the Met Police Counter Terrorism Command.
The second suspect, Michael Adebolajo, 28, remains in hospital.
The Independent Police Complaints Commission is investigating, which is routine following incidents where police officers have discharged their firearms.
The commission said two police officers had fired gunshots and one had used a Taser in the incident.
Scotland Yard said the three officers concerned could be back on operational duty "fairly quickly".
Drummer Rigby, 25, was walking to the Royal Artillery Barracks in Woolwich when he was struck by a car and then attacked.
Complex investigation
Detectives have been in Woolwich handing out leaflets in the hope of finding further witnesses who have not already come forward.
Scotland Yard said officers and the security service continue to work "tirelessly and painstakingly" on the inquiry.
Commander Simon Letchford urged any witnesses to the attack, or anyone with any information, to come forward.
He also called for information on the blue Vauxhall Tigra, registration N696 JWX, that hit Drummer Rigby.
"Seven days ago Lee Rigby was murdered in an act of violence that was shocking and horrific. Our thoughts are with Lee's family and friends at this very difficult time for them," Cdr Letchford said.
"A fast-paced and complex investigation is now under way led by detectives from the Met's Counter Terrorism Command.
"As part of that investigation, officers are asking for the public's help. We need to hear from anyone who may have seen Lee being attacked or who may have any other information that may help."
The charity Victim Support is offering a dedicated service for witnesses who need help following the attack. It has so far provided practical help and emotional support to 11 members of the public.
Among those paying their respects in Woolwich was Ingrid Loyau-Kennett, who was seen last week trying to reason with one of the attackers as he stood holding a bloody knife.
Explaining why she spoke to the man, she said: "I didn't have time to feel really, just something in my brain told me to do it."
She said the numerous flowers left at the scene showed British people's shock at the killing and their support for the armed forces.
Police have arrested 10 people in connection with the investigation so far.
On Tuesday police said a 50-year-old man had been "bailed to a later date pending further inquiries".
Hayden Allen, 21, who reportedly attended the same mosque as the two suspects, was held on suspicion of conspiracy to commit murder, but was later released on bail.
A statement from his lawyer said Mr Allen had "no prior knowledge" and "played no part" in the "atrocity".
Four other people have been bailed and two released without charge.