Britain's last Guantanamo detainee Shaker Aamer 'falling apart'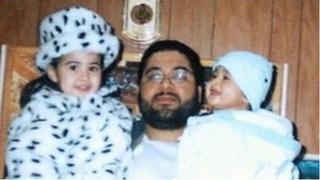 Shaker Aamer, the last remaining British resident at Guantanamo Bay, fears that when he is finally released he will not respond when his children shout 'Daddy'.
The man called detainee 239 for the last 11 years said not being known as just a number would take some getting used to.
Mr Aamer remains in Guantanamo despite never being charged of any crime and having been cleared for release twice since 2007.
But in answers given exclusively to BBC Radio 5 Live's Victoria Derbyshire show, he believes he will be released "very soon".
News of a mass hunger strike among the 166 detainees at Guantanamo led US President Barack Obama to recently repeat his 2008 election pledge to close the facility.
But there is still no date as to when it will close and when Mr Aamer will be allowed back home to his family in London.
'Cannot stand up'
Having joined the hunger strike in February, Mr Aamer says he is "falling apart like an old car".
"The hunger strike is a simple matter: it is about justice," he says.
"There are 86 detainees here, including me, who have been cleared by the Americans - cleared to leave this place, but they are still here.
"There are 80 who are not cleared but they have not been tried. It is ironic. President Obama seems to agree with us that the place should be closed, so presumably he agrees with our hunger strike."
Drinking just one cup of coffee and one cup of tea a day, Mr Aamer acknowledges the hunger strike is starting to affect his health.
"I have not been able to read for a month now. My eyes are going. I cannot remember anything. I forget things.
"I cannot stand up. I fall down. But I don't want to fall down too much. They will do a code yellow on me, when they burst into my cell and step on my hands.
"It is cold in here. You might not think so as it's 70.5 degrees. But when you've not eaten for 100 days that's cold.
"I try to do exercise in my cell. A brother told me to do some gentle things to keep my body warm. But it is hard on my heart and I need to conserve myself. "
Originally from Saudi Arabia, the 46-year-old has permission to live in the UK indefinitely because his wife is a British national. When Mr Aamer was detained in 2001, he had three children and his wife was pregnant.
"I have never even met my youngest child, who was born on the very day I arrived in Guantánamo Bay, February 14 2002," he says.
"I have missed my other three lovely children for 11 years. I have missed my wife for 11 years. I have missed my life for 11 years."
'Demand only justice'
He was arrested in Afghanistan in 2001 by US authorities, who said he led a unit of fighters against Nato troops and had met Osama Bin Laden.
But Mr Aamer has always said he was in the country with his family to undertake charity work.
His cause has support among the British public, with more than 100,000 people signing a petition calling for his release.
The Foreign Office told the BBC it had continued to "make clear to the US that we want him released and returned to the UK as a matter of urgency".
Mr Aamer says it is difficult for him to say if the British government has been doing enough on his behalf to facilitate his release.
"For the last months I have not been allowed to see the news. I have never received a letter from the British government. I have even been prevented from writing to William Hague, the foreign secretary," he says.
"I can only rely on my lawyer, Clive (Stafford Smith), for information on this, and it is his opinion that Mr Hague is sincere in his efforts to secure my release.
"For that, I thank him. I am not begging for help. I will never beg for help. I demand only justice."
He says he hopes the "whole world" now recognises and supports the Guantanamo detainees' plight.
Some of the guards are "beautiful people", he says, but he has no kind words for the prison's administration.
When asked if he fears being punished for speaking out, Mr Aamer replies: "What more can they do to me that they have not already done?"
Listen to more about Shaker Aamer's life in Guantanamo Bay on Radio 5 live's Victoria Derbyshire Show on BBC iPlayer.