Hackers post 'EDL members' contact details' online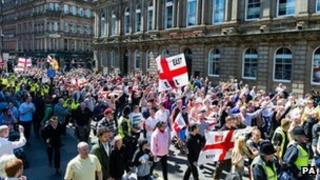 A list apparently showing the contact details of English Defence League members has been published online.
It has been posted by people claiming to be part of a computer hacking network known as Anonymous.
Names and addresses of more than 200 people from all over the country are on the list.
The post from a group calling itself Anonymous UK also includes the mobile telephone numbers of people it claims to be senior members of the EDL.
It said the EDL "should have expected this" and warned it to "expect more".
The publication followed an audio message, recorded with a computerised voice and published on YouTube, from Anonymous UK to the EDL that accused the far-right group of taking "advantage of moments of fear and terror to spread hatred and animosity".
'Constant belligerence'
It likened the EDL to a "pack of raving ignoramuses" and said the group's "constant belligerence" would further "only bigotry and segregation".
The message added: "You have angered us considerably, and summoned our wrath irrevocably."
The EDL has held several demonstrations since the death of Drummer Lee Rigby, the soldier who was killed in Woolwich, south-east London, last week.
It is unclear whether the people listed are actually members of the EDL.
A similar list of names of supposed British National Party members, published in 2008, included some people who turned out not to be members.
More than 1,000 EDL protesters gathered in London on Monday and were addressed by EDL leader Tommy Robinson.
A smaller group of anti-fascist protesters gathered to oppose the EDL.
Scotland Yard said 13 people were arrested for public order offences. The figure was thought to include both EDL and anti-fascist protesters.