British doctor killed in Syria after hospital shelled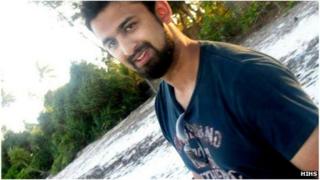 A British doctor has died in Syria after the makeshift hospital he was working in was shelled, a charity says.
Dr Isa Abdur Rahman, a 26-year-old graduate from Imperial College London, had travelled to Syria to treat injured civilians, putting his career on hold.
UK-based charity Hand in Hand for Syria said he died shortly after Wednesday's attack in the city of Idlib.
Chairman Faddy Sahloul said Dr Abdur Rahman was "one of the bravest and most dedicated people I have met".
"I was very close to Dr Isa, a shy young man whom I first met two years ago.
"We spent a significant amount of time working together in Turkey and Syria.
"Everyone who knew him is shocked and saddened to hear the tragic news of his death, but we can draw comfort from the fact that he died doing work that he loved.
"Our thoughts and prayers are with his wife and family at this difficult time."
Two other civilians are reported to have died and two others wounded in the attack.
A JustGiving donation page set up by Hand in Hand for Syria following his death has raised more than £25,000 so far.
The charity plans to use the money to set up a field hospital named after Dr Abdur Rahman in the Syrian city of Homs.