Nick Ross defends rape comments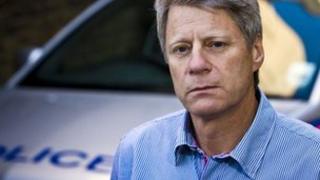 Former Crimewatch presenter Nick Ross has issued a statement defending himself against criticism over comments he made about rape.
In his book, Crime, he said it had become "sacrilege to suggest that there can be any gradation: rape is rape".
"The real experts, the victims, know otherwise," he said.
After criticism from anti-rape campaigners and on social media, he said rape was "one of the most defiling crimes" and could never be justified.
The controversy comes after extracts from the "Sex" chapter of his book Crime - subtitled "how to solve it and why so much of what we're told is wrong" - were published in the Mail on Sunday.
'False storm'
The extract featured said: "Half of all women who have had penetrative sex unwillingly do not think they were raped, and this proportion rises strongly when the assault involves a boyfriend, or if the woman is drunk or high on drugs: they went too far, it wasn't forcible, they didn't make themselves clear."
He adds: "For them, rape isn't always rape and, however upsetting, they feel it is a long way removed from being systematically violated or snatched off the street."
After publication, a number of newspapers reported that he had suggested "rape isn't always rape".
Sarah Green, campaigner with the End Violence Against Women charity, said: "It's really disappointing - more than that, it's horrible - that a reputable journalist like Nick Ross, with expertise associated with crime through Crimewatch, is trotting out with the same spurious myths about rape."
'Sickens and appals'
And Jacqui Hames, who presented Crimewatch with Ross for 16 years, tweeted: ".@nickrosscom Just caught up with the MOS - struggling to match the man I know with the comments!!!! What on earth is going on?"
In a statement released on Sunday, Ross - who left BBC One's Crimewatch in 2007 - said the reaction to his writing was "a false storm".
He said it "sickens and appals" him that people could suggest he blamed rape victims or "belittle what they suffer", adding that "the opposite is true".
"For the record, lest it needs saying, and, as I make clear in the published extracts, anyone who suffers such a violating crime should be the centre of our concerns."
Jill Saward, a campaigner for victims' rights, said she had some sympathy for Ross. His message had not been portrayed well by the media, she argued.
"I have supported women who don't realise they've been raped," she told the BBC.
"When you talk to them, sometimes it's because they can't actually face the fact that they have been raped, because if they don't have to think about it they don't have to acknowledge it. And some don't realise, because they don't actually realise what rape is.
"That was the message that maybe he was trying to get across, but it hasn't come across well."
'Ironic'
The book cited research which found many victims did not regard what happened to them as rape, "even though in law it plainly was", Ross had added.
"In other words victims themselves plainly see gradations in rape."
He said that, "far from taking a chauvinistic view, my chapter on sexual crime disparages the patronising views of women that still too often prevail".
He said: "Far from blaming people, my book says we are too quick to blame and that it tends to distract us from finding solutions to crime.
"While I acknowledge the self-evident truth that we - all of us - may, through our actions, make ourselves safer or more vulnerable to crime, that is not even remotely the same thing as justifying assault."
Speaking to BBC Radio 5live, Jo Wood, a trustee of Rape Crisis, drew attention to the "pretty pathetic" conviction rate for rape.
Of Ross, she said: "I find it quite ironic that he's claiming he's been taken out of context and that's not actually what he meant, etc, because that is exactly what a rape victim goes through: 'I didn't mean it that way, you're twisting my words.'
"That occurred to me last night, listening to him: he sounded like a rape victim on a stand in court, exactly the same."