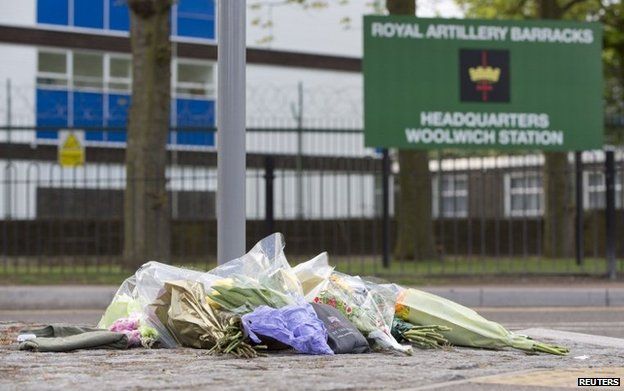 A British soldier has been killed…
How often has this sad phrase drifted into our consciousness from a news report, reminding us of the risks being taken in our name by young men and women posted to some dusty foreign province?
The military has never dwelt on the detail of such matters. Each death is treated with great dignity and respect, but also with simplicity and calm that belie the circumstance and the grief.
We tend to engage with the fatal consequence of war through the slow march, the plain coffin and the starched flag.
A British soldier has been killed…
It was one of those rare news stories that genuinely catch the breath. On a normal street in a normal neighbourhood in normal Britain, something quite incomprehensible had taken place. Every detail seemed at odds with the bland urban surroundings.
The pavement confrontation between a man with blood on his hands and a woman Cub Scout leader exemplifies the point: ordinary life juxtaposed with the extreme.
That is what modern terrorism aims to do. Force those who live their lives in general safety and comfort to experience the brutality and blood of the battlefield.
Generally, our response has been to try to reduce risk by wrapping our lives in the swaddling of security measures: bag searches and hand luggage restrictions; surveillance and control orders.
The method of the Woolwich killing, without warning in broad daylight with blades and bare hands, does not suggest obvious additional precautions we might take.
Security levels can be stepped up, vigilance encouraged and there will be inevitable questions as to whether the killers were on someone's radar and should have been stopped.
However, there is little more that a free society like ours can do to minimise the individual risk from such attacks. There are thousands of people "on the radar" but is it realistic to imagine we could follow each of them all day and night - just in case?
The focus of attention will be upon the risk to something broader - the cohesion of our society. One of the men with a cleaver in his bloodied hand is reported as telling a passer-by: "We are going to start a war in London tonight."
Those far-right groups who seek to translate public disgust at the killing into general anti-Muslim feeling are reacting just as the murderers had hoped they would.
Reports of mosque attacks are similar to incidents that occurred after the Tube and bus bombings of 7 July 2005 - pitiful acts of racism quite at odds with the general public mood then and now.
What is interesting has been the swift reaction of organisations from within Britain's Muslim communities. My inbox has been filled with statements from groups utterly condemning the murder, voicing support for British soldiers and calling for unity and peace.
There will be a few voices from the margins attempting to exploit the events in South London for various political ends, but our natural response to attack is to rally round, to support each other, to reach out. It is about respect and calm.
Those are the principles that our police, security services and military seek to protect.