Woolwich murder: Who are the suspects?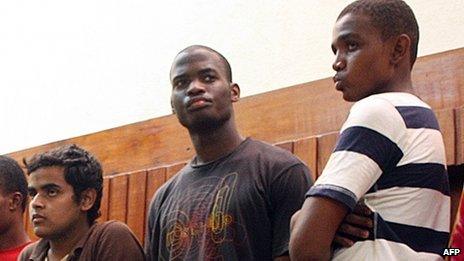 One of the two men held over the murder of soldier Lee Rigby in a street in Woolwich, south-east London, on 22 May was previously arrested in Kenya, the Foreign Office has confirmed.
Michael Adebolajo appeared in court after reportedly preparing to train and fight with Somali militant group al-Shabaab in November 2010.
He is currently being treated in hospital after being shot by police before his arrest in Woolwich.
Michael Adebowale, who was also shot at the scene, has been discharged from hospital and taken into police custody.
Police have never formally named the pair but their identities are now well known.
Minutes before the men were arrested in Woolwich, one of them was filmed by a member of the public with his hands bloodstained and holding a knife and meat cleaver.
Sources have told the BBC he is Michael Adebolajo, 28, from Romford, in east London.
Mr Adebolajo left school in 2001, where he was described as bright.
Havering Sixth Form College in Hornchurch, Essex, told the BBC a student named Michael Adebolajo studied for A-levels there from 2001-03.
The University of Greenwich has confirmed records show Mr Adebolajo was registered as a student between 2003 and 2005. It said his academic progress was "unsatisfactory" and he did not complete his studies there.
Like the other suspect, Michael Adebowale, Mr Adebolajo is a Briton of Nigerian descent and a convert to Islam.
Mr Adebolajo is understood to come from a Christian family and converted after attending university.
A neighbour from Romford, who wished to remain anonymous, told the Guardian: "They were very pleasant, a very ordinary normal family."
His family moved to Lincolnshire, where a house in Saxilby was searched after the attack and residents say Mr Adebolajo spent some time there.
The address is believed to have been where he, his parents, and his younger brother and sister lived, according to local people, although it appears he may have moved away some time ago.
Mr Adebolajo's family issued a statement of condolence to Drummer Rigby's family.
"As a family, we wish to share with others our horror at the senseless killing of Lee Rigby and express our profound shame and distress that this has brought our family," it said.
"We wholeheartedly condemn all those who engage in acts of terror and fully reject any suggestion by them that religion or politics can justify this kind of violence."
The statement added: "We unreservedly put our faith in the rule of law and, with others, fully expect that all the perpetrators will be brought to justice under the law of the land."
Sources have told the BBC Mr Adebolajo was known to the security services.
He is said to have attended demonstrations of the now-banned Islamist group al-Muhajiroun.
Mizanur Rahman, who was jailed after a 2006 protest against cartoons depicting the Prophet Muhammad, told the BBC he was sure the police would know who Mr Adebolajo is.
"He's certainly not a lunatic who's hiding his beliefs," he said.
"He's been very outspoken about his concerns and grievances before and he has been arrested for those beliefs as well."
Footage uncovered by the BBC shows Mr Adebolajo taking part in an al-Muhajiroun demonstration in April 2007 against the arrest of a man from Luton.
He can be seen standing in a crowd of men outside Paddington Green police station, holding a placard reading Crusade Against Muslims.
In pictures from 2009, Mr Adebolajo can be seen at a counter-demonstration to a march held by the right-wing English Defence League in north-west London.
A member of the public has told the BBC she saw Mr Adebolajo handing out leaflets and preaching in Powis Street, in Woolwich, a main shopping street.
A friend of his, Abu Nusaybah, who said he met him in Romford in early 2002, told BBC Two's Newsnight programme he noticed "a change" in Mr Adebolajo when he returned from a trip to Africa last year.
He said his childhood friend had been detained by security forces in Kenya.
The Foreign Office later said Mr Adebolajo had been arrested in Kenya in November 2010 and it gave consular assistance "as normal" in the circumstances before he was deported.
Mr Nusaybah said MI5 asked Mr Adebolajo to work for them after he returned from Kenya, but he refused.
Human rights group Cageprisoners Ltd said Mr Adebojalo approached it last year to complain he and his family were being "harassed" by British security services.
Mr Adebojalo and his family claimed they had received numerous phone calls, text messages and visits from British security agents pressuring them to co-operate, Cageprisoners said.
ITV News has said it understood that Mr Adebolajo became a father a few days before the attack.
In the footage from Woolwich obtained by ITV News, the man says in a London accent that as long as British troops are in Muslim countries "you people will never be safe" and "We swear by almighty Allah we will never stop fighting you".
Ingrid Loyau-Kennett, a cub scout leader who confronted Mr Adebolajo after the attack told The Daily Telegraph: "He was not high, he was not on drugs, he was not an alcoholic or drunk, he was just distressed, upset."
The second suspect, 22-year-old Michael Adebowale, grew up in south-east London.
According to the father of Damilola Taylor, the schoolboy stabbed to death in Peckham in 2000, Mr Adebowale's mother is a probation officer and his father a representative at the Nigerian High Commission.
He said he had known him since the age of 10 after his mother got in touch to say he was experiencing problems in school and was being bullied.
"He was a young, loving boy" but later it appeared there was issues around gangs and drugs, said Mr Taylor.
He said he last spoke to Mr Adebowale about two months ago. He told him he had changed his ways after becoming a Muslim.
A story in the Guardian said Mr Adebowale was stabbed in January 2008, when a man attacked him and two friends at a flat, killing one of them.
Sources have told the BBC he was known to the security services.
At the time of the Woolwich attack, Mr Adebowale was understood to have been staying with his girlfriend in her flat on a Greenwich housing estate later raided by police.
Nicola James, who lives in the same block, said he had been there for "at least the last three weeks", while another neighbour confirmed he had seen both suspects at the flat "two or three times".
One resident said he often saw Mr Adebowale in the lift and described him as a "nice, quiet guy".
Another said from what he knew of Mr Adebowale, "he wouldn't go from a normal bloke to doing that. He must have been brainwashed into doing it."
According to a report on Sky News, he was among a group of men who preached from a stall on a shopping street in Greenwich from 2012 and store owners report seeing him detained by police about two months ago.
Cub scout leader Ingrid Loyau-Kennett said she also spoke to Mr Adebowale at the scene of the attack and described him as "much shier" [than Mr Adebolajo].