Woolwich murder: Woman tells how she confronted attackers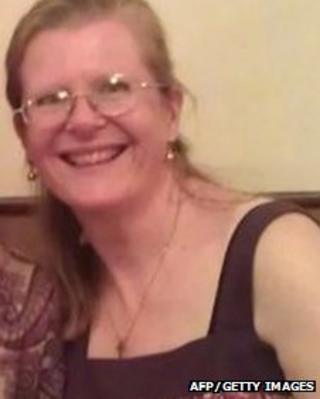 A 48-year-old cub scout leader has told how she confronted two men suspected of brutally murdering a soldier just moments after the attack.
Ingrid Loyau-Kennett said she engaged the men in conversation to prevent them from attacking others.
She said they were holding "butchers' tools" and told her they had carried out the attack in Woolwich because British soldiers had killed Muslims.
Prime Minister David Cameron praised Ms Loyau-Kennett for her "brave" actions.
Two men were shot by police at the scene and are under arrest in hospital.
Police have raided two addresses in connection with the attack - one in Greenwich, London and one in Saxilby, Lincolnshire.
Ms Loyau-Kennett, who lives in Helston, Cornwall, was on the number 53 bus heading through Woolwich, south east London on Wednesday afternoon when she spotted the soldier lying bloodied in the road.
'Covered with blood'
She told the Daily Telegraph she initially thought the man had been injured in an accident and got off the bus to give first aid.
"Then I saw the guy was dead and I could not feel any pulse," she told the newspaper.
"And then when I went up, there was this black guy with a revolver and a kitchen knife, he had what looked like butchers' tools and he had a little axe and two large knives and he said 'move off the body'.
Before armed police arrived at the scene, Ms Loyau-Kennett, a mother of two, said she tried to reason with the killer in an effort to focus his attention away from other potential victims.
She was photographed by onlookers speaking to one of the men who was holding a knife.
She told the Telegraph: "So I thought 'OK, I don't know what is going on here' and he was covered with blood. I thought I had better start talking to him before he starts attacking somebody else. I thought these people usually have a message so I said 'what do you want?'
"I asked him if he did it and he said, 'Yes,' and I said, 'Why?' And he said because he has killed Muslim people in Muslim countries, he said he was a British soldier and I said, 'Really?' and he said, 'I killed him because he killed Muslims and I am fed up with people killing Muslims in Afghanistan, they have nothing to do there.'
'In full control'
"I started to talk to him and I started to notice more weapons and the guy behind him with more weapons as well. By then, people had started to gather around. So I thought OK, I should keep him talking to me before he noticed everything around him.
"He was not high, he was not on drugs, he was not an alcoholic or drunk, he was just distressed, upset. He was in full control of his decisions and ready to do everything he wanted to do.
"I said, 'Right now it is only you versus many people, you are going to lose, what would you like to do?' and he said, 'I would like to stay and fight.'
"The other one was much shyer and I went to him and I said, 'Well, what about you? Would you like to give me what you have in your hands?' I did not want to say 'weapons', but I thought it was better having them aimed on one person like me rather than everybody there, children were starting to leave school as well."
In a statement outside Downing Street, David Cameron highlighted the actions of Ms Loyau-Kennett as demonstrating that "confronting extremism is a job for us all".
He said: "When told by the attacker he wanted to start a war in London, she replied, 'You're going to lose. It is only you versus many.' She spoke for us all."