Allies discussed killing Rommel in run-up to D-Day landings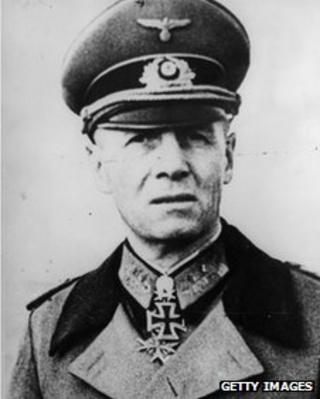 Plans to assassinate key German figures, including Erwin Rommel, in the run-up to D-Day are revealed in newly-released British intelligence files.
It was discussed in communications between the British government, military and intelligence services with the aim of aiding the landings.
They planned to target those involved in the Gestapo and enemy logistics.
However it was dismissed as "the type of bright idea which... produces a good deal of trouble and does little good".
The letters and telegrams detailing the plans were revealed in a file, dated 1944 and obliquely entitled "War (General)", from the foreign office's permanent under-secretary of state Sir Alexander Cadogan.
It includes communications from Sir Alexander as well as Charles Peake, who was attached to the Supreme Headquarters Allied Expeditionary Force, the body that commanded Allied forces in north-west Europe and Victor Cavendish-Bentinck, Chairman of the Joint Intelligence Services.
War criminal targets
The plan discussed the possibility of targeted assassinations of any German personnel whose "removal at the critical point might really be a blow to the German effort".
The targets considered were political figures as well as Gestapo agents, heads of supplies and those involved in other important "economic organisations".
Mr Peake's initial letter suggesting the plan to assassinate important German officials acknowledged that it was ambitious, saying: "Compiling a list is one thing and getting results quite another, but I suppose we must do our best".
The possibility of killing certain high-ranking military figures rather than taking them prisoner was mooted but it was decided "it may impinge on the policy as regards treatments of war criminals".
The German officers discussed included the famous German field marshal Erwin Rommel, who was involved in the plot to assassinate Hitler.
Mr Cavendish-Bentinck did argue that "if any such war criminals are bumped off as proposed, it will save us the trouble of dealing with them later".
'Wave of murderings'
The plan was also to be extended to French Vichy collaborators but it was decided that the identification and assassination of these targets would be best left to the French themselves.
Ultimately however the plan was dismissed as it was believed the attacks would trigger "bloody reprisals".
Mr Cavendish-Bentinck believed it could result in a "wave of murderings which will probably last when we are in occupation of enemy territory" and he also doubted the aptitude of British forces for the task:
"The Poles have destroyed a number of German officials, but they are specialists in this type of work and have had more than significant provocation.
"If assassination were easy, many statesmen and high officers would have come to a violent end"
But he did allow that "if the French like to assassinate Germans or collaborators we should not deter them".
There were concerns over the effectiveness of the plan, MI6 Chief Stewart Menzies, referred to only as "C" throughout the communications, said of the suggested victims:
"We do not believe, however, their removal will have much, or indeed any, effect on the efficient functioning of so widespread and highly organised machine in which they are prominent officials."