Southend beaches look to the future after losing Blue Flags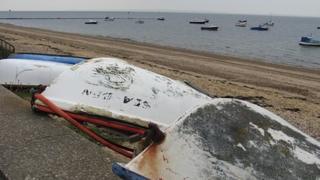 On a grey, chilly May weekday, Shoebury Common Beach is deserted and rather uninviting.
A few dozen boats bob on the calm water off the golden sands, as dog walkers and retired folk stroll along the promenade. But no one seems particularly upset at the loss of the beach's Blue Flag status.
This time last year this spot, along with East Beach in Shoebury and Three Shells beach in Southend, all had Blue Flags, the mark of the highest standards issued in England by campaign group Keep Britain Tidy.
All three have lost that status in this year's awards, although all seven beaches in Southend-on-Sea borough council's area received the new Seaside Awards - which have replaced the Quality Coast Awards.
While still a sign of high quality, the Seaside Awards are not quite as prestigious as the Blue Flag award, which recognises the highest standards of cleanliness, amenities and water quality.
New standards
One couple, out for a walk at Shoebury Common Beach with visiting friends, said that as they were not really swimmers the loss of a Blue Flag didn't matter to them, but they were aware that the local water company is keen to discourage polluters.
"Maybe if you had a young family, it would be an issue," says the woman, but for her it's the coldness of the water rather than missing the target for any EU criteria that puts her off.
This year, beaches were subject to much tougher standards, having to meet an "excellent" standard required under the new EU Bathing Waters Directive.
This is actually due to be introduced in 2015, but the Foundation for Environmental Education, which runs the Blue Flag scheme internationally, has introduced the new standard two years early.
Keep Britain Tidy says any beach with a Seaside Award "is still a wonderful beach, and its water quality is still good enough for it to be a bathing beach - it just did not reach the new water quality standards".
Nigel Panzetta, 82, of Brentwood, Essex, a regular visitor to Shoeburyness for nearly 50 years, says he has not noticed any obvious pollution.
"But it's certainly possible, what with the Thames and all the boats that go past, and the mud and the silt that builds up, and the rubbish that gets chucked in the water. It's humans who make the mess, isn't it."
Many English beaches have failed to meet these new standards - this year's 55 Blue Flag beach total is down from 79 in 2012.
Cultural bid
Scott Dolling, acting head of service, enterprise tourism and regeneration at Southend-on-Sea borough council, says that last year's wet weather did not help matters when the water quality measurements were taken.
"We had a lot of run-off from land into the water, so there were extenuating circumstances. We're now working with the Environment Agency and Anglian Water to improve our infrastructure."
Mr Dolling also says that the council has to ensure that it puts its "marketing message" across that, while its beaches have lost their Blue Flag status, they are still of a high quality.
This is especially important as Southend-on-Sea is also bidding to become UK City of Culture 2017. Mr Dolling says winning that accolade would be "amazing".
"Although we have a lot of culture to offer, that's not what we're known for.
"We've got theatres, galleries and festivals but we know that no one needs to be told about Southend-on-Sea. It was built on its foundation as a place where you could enjoy the seaside."
Mr Dolling also says major investment over the past few years has meant the council has "put our money where our mouth is" by supporting the area's seafront, a popular place for many of the area's approximately six million annual visitors.
"We have spent £30m on new seafront projects, transforming the Southend area compared with two or three years ago, improving the lighting and installing fountains, for example. Some of our beaches have new play equipment and new sand brought in.
"Southend-on-Sea is a great, happening place whatever the weather, either as a traditional seaside resort or on a more cultural level.
"It's not the high quality of our beaches which has changed, just the measure by which the Blue Flags are issued."
Mr Panzetta, the only occupant in the row of bathing huts fronting the sea on this overcast day, describes Shoebury Common Beach as "most definitely the quieter end" of this stretch of coast - with the 1.33-mile long Southend Pier visible through the grey light in the distance.
But come some hot weather, it's a busy little spot apparently, and he'd be very relaxed to see his grandchildren frolicking in the water, Blue Flag or not.