Law Society calls for 28-day limit on police bail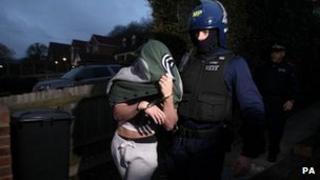 More than 57,000 people are on police bail in England, Wales and Northern Ireland, according to figures obtained by the BBC.
In one case a person arrested three-and-a-half years ago remains on bail.
The Law Society told BBC Radio 5 live it wanted a review of police bail practices and said there should be a statutory time limit on police bail.
The data was collated from 34 of the 44 police forces that responded to a Freedom of Information request.
Bail in Scotland is granted by courts and not by the police.
The data, obtained by a BBC Radio 5 Live Freedom of Information request shows that at least 57,428 people are currently on bail. Of those, 3,172 have been waiting for more than six months for a decision on charges.
There is currently no limit on how long a person can be kept on police bail before a decision on whether to charge them is made.
There have been a number of high-profile cases of people who have been held waiting on police bail for a lengthy period.
They include former News of the World executive Neil Wallis, who was arrested on suspicion of phone hacking in 2011 and on bail for 19 months before being told he would not face any charges.
The figures include one case of a man who has not been told whether or not he will be charged, despite having been arrested and bailed by the Metropolitan Police three years and eight months ago.
The force said the man was a 45-year-old who was arrested in October 2009 on suspicion of fraud. He is next due to answer bail in August.
A spokesman for the Met said: "We are aware of the length of bail time in this case, which has been a very lengthy and complex fraud investigation."
'Review needed'
Conditions can be placed on police bail, which can include curfews and restrictions on movement and financial transactions while an investigation continues.
The Law Society of England and Wales says people are often left "in the wilderness" while police decide whether or not they should be charged with a crime.
Richard Atkinson, chairman of the society's criminal law committee, believes the limit should be set at 28 days.
He said: "I would call for a 28-day statutory maximum period for police bail. But it could be extended by applying to a magistrate.
"There, police would have to explain what stage they were at in their investigation and why a further 28-day extension of bail was necessary."
Steven, a former teaching assistant from Newcastle, told the BBC: "After I was arrested, I was on bail for five months before I was told that no further action would be taken against me."
He was arrested in connection with an allegation of sexual assault, which turned out to be false.
Steven said being on police bail and waiting for a decision from the Crown Prosecution Service (CPS) could have a big impact on the lives of those arrested.
He said: "I was suspended from my job and I was scared to leave the house because I was paranoid that people knew I was a police suspect.
"I became severely depressed and contemplated suicide. The uncertainty of not knowing when my ordeal would be over was awful."
'Ruined'
Andrew, a mortgage broker from Shropshire, was arrested with his wife in September 2010 on suspicion of conspiracy to launder money.
His bail ended this month, two years and eight months later.
The police claimed the couple had laundered money through various properties. But Andrew said the police did not communicate with them while the investigation continued and their business suffered.
Andrew said: "We couldn't afford to operate from our office so we had to move out of that and instead to work from home.
"A condition of our bail was a restraining order on our banks and properties. We had to disclose to police all our incomings and outgoings. The court allows us to pay certain bills such as mortgages and utility bills. They allowed us £250 a week to live on outside that."
Andrew added: "We had to go to bed and wake up in our house. In that whole time we never slept anywhere else. They took our passports away from us and told us not to travel abroad. They seized the children's laptops and mobile phones and a PC from the house. The PC came back broken and two of three laptops came back broken.
"My wife and I are relieved that no charges have been brought, but our business was ruined during our time on bail. We've been left penniless and with a huge solicitors' bill that we can't pay."
A West Mercia Police spokesman said: "After detailed and lengthy inquiries into this case, a decision was recently made that the suspects should be released without charge. It is recognised that the suspects in this case were on bail for a lengthy period of time.
"This was due to the complex nature of the case, which involved the gathering of a significant volume of financial and other evidence which had to be reviewed and assessed prior to the recent decision having been made.
"Every time a person answers their bail and returns to a police station, the investigating officer must satisfy the custody officer that it is necessary for that person to remain on bail and that inquiries are being carried out expeditiously," he added.
'More with less'
Steve White, the vice-chairman of the Police Federation, said more resources were needed to speed up cases.
He told 5 live: "Resources are always going to have an impact in terms of how quickly we can get stuff done. We are still in the process of dealing with the cuts we are having to face."
Mr White said cuts to the CPS were having a knock-on effect.
"The Police Service is being asked to do more with less and there comes a point where you can't do any more or do it any quicker. The turnaround time in terms of inquiries is sometimes too long. We have to accept that," he added.
"But what do you do as a manager of a team and you have an officer with a caseload where you have several cases where you have people on bail? Do you say to that officer, 'Your priority is to get that work done' and they are not able to go out on patrol the Friday or Saturday night so you're down a person?"
Chris Eyre, Chief Constable of Nottinghamshire and national lead for forensic procurement at the Association of Chief Police Officers, said police bail was an "essential tool in securing justice".
He said: "It allows investigators to ensure every possible avenue is explored, while those arrested need not remain in custody. The huge complexity of some investigations in the 'information age' can mean this takes time.
"Hi-tech crime investigations, computer forensics, CCTV, telephony, using interpreters or gathering evidence across borders and jurisdictions can all take time and painstaking analysis."
A Home Office spokesman said: "We continue to keep police bail provisions under review to ensure they strike the right balance between protecting an individual's right to civil liberty and allowing police to carry out thorough criminal investigations."
The names of some individuals quoted in this article have been changed.