Paper review: 'Humiliation' for PM on gay marriage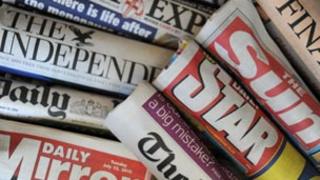 Tuesday's papers again make difficult reading for the prime minister.
The Daily Mail says David Cameron suffered "humiliation" in the Commons on Monday night when he was forced to accept a Labour offer of help to save his legislation on gay marriage.
The Sun says Mr Cameron accepted Labour leader Ed Miliband's lifeline after suffering "a kicking from true blue Tories".
"Lily-livered leadership, casual arrogance and suicidal political instincts" have left the prime minister in a wilderness of dismal poll ratings, the paper says.
For the Guardian, the Conservatives are stuck in a spiral of irrelevance - a party, that has become increasingly inward-looking, pulling against itself.
The Daily Star believes Mr Cameron is fast losing touch with voters while the Daily Mirror believes the Tories have behaved like an "unruly rabble" on gay marriage and have shown they remain as "the Nasty Party".
'State of crisis'
"The GPs who don't even know your name" is the Daily Mail's front page headline.
It says Health Secretary Jeremy Hunt will make a speech in which he will criticise out-of-hours GP services where members of the public "speak to a doctor who doesn't know you from Adam".
The paper says Mr Hunt will call for family doctors to once again take ultimate responsibility for around-the-clock care.
The Independent reports a "state of crisis" in hospital casualty departments.
A letter written by the heads of 20 accident and emergency departments to NHS managers says they can no longer guarantee safe care for patients.
A combination of "toxic overcrowding" and "institutional exhaustion" is said to be putting lives at risk.
Scaling 'monsters'
The Times celebrates the achievement of British mountaineer Kenton Cool who has scaled Everest and two adjoining summits in one continuous climb over one long weekend.
The paper reports that he and climbing partner Dorje Gylgen began on Saturday by scaling Mount Nuptse - a mere 7,861 metres.
On Sunday, they reached the summit of Mount Everest, at 8,848 metres. For Mr Cool it was his 11th Everest ascent.
On Monday, despite blogging his doubts about scaling "these monsters", he conquered Mount Lhotse, at 8,516 metres.
Fruit surprise
"Mein Gott! Now England will wear Germany's kit," writes the Daily Express.
It is among several papers to notice the new England football team shirts resemble those worn by West Germany in the 1966, 1970 and 1974 World Cups.
The Express says the kit conjures up images of the game's legends. Unfortunately they are all German, including Franz Beckenbauer.
Finally, we may have had an unseasonably cold spring, but the Daily Mail reports that the weather has provided ideal conditions for strawberry growers.
It says the conditions have been ideal for strawberry growers with strong plants and the fruit ripening slowly.
The result will be a bumper crops of strawberries this year which are sweeter and juicier than usual, the paper adds.