Abu Qatada: Cleric refused bail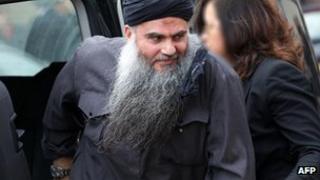 Radical cleric Abu Qatada has been refused bail by an immigration tribunal in his latest bid for freedom.
His lawyer said he should be freed from prison so he could spend time with his family before leaving the UK for Jordan - which he had agreed to do once the countries ratified a fair trial treaty.
But a judge ruled he was a national security risk with a wide support network who might try to escape.
The cleric faces a retrial for terror charges if he returns to Jordan.
At a hearing of the Special Immigration Appeals Commission (Siac) in London, immigration judge Mr Justice Irwin ruled Abu Qatada must remain in custody.
He has been held at Belmarsh prison in south-east London since March after he allegedly breached a bail condition which stops him from turning on mobile phones in his house.
'Proud and dignified'
In his ruling, Mr Justice Irwin said the breaches were "serious".
He highlighted an instance of jihadist material being found on a memory stick in his son's room, which Abu Qatada had assured them only contained school work.
The judge went on to say there was "no doubt" Abu Qatada presented a national security threat.
"The essence of that is promulgation of his views in support of violence, and the potential effect on others of that promulgation," he said.
Mr Justice Irwin went on: "This appellant has in the past fled in order to avoid a court order, equipping himself with a false passport.
"He is highly intelligent, has a range of sympathetic and supportive contacts, and his risk to national security is undiminished.
"We reject the submission that he can, even now, be relied on to comply with his legal obligations and not to attempt to abscond."
Abu Qatada's lawyer Daniel Friedman QC described his client as a "proud and dignified man" who has been "deprived of his liberty more than any other non-convicted person in British history".
"Against this background, he wants to spend time with his family to prepare to leave the country in a manner that safeguards the dignity and security of all involved," he added.
'Lost fight'
Robin Tam QC, representing the Home Office, said Siac had once described Abu Qatada - also known as Omar Othman - as a "truly dangerous individual" and there was "no reason to believe that was no longer true".
He said the fair trial treaty between the UK and Jordan should pass through parliament within weeks.
"At this time, Mr Othman definitively accepts he has lost his fight against deportation," he added.
In 1999, the cleric was convicted of terrorism offences in his absence and sentenced to life imprisonment in Jordan.
The UK government has been trying unsuccessfully to deport him for nearly eight years.
During that time he has been in and out of jail despite never being charged with an offence in the UK.
Last month, the UK and Jordan signed a mutual assistance treaty which includes guarantees on fair trials, as part of the home secretary's efforts to deport him.
Theresa May hoped it would allay fears that evidence extracted through torture would be used against him in a retrial in Jordan.
The Home Office has welcomed the ruling, describing Abu Qatada as "a dangerous man".
"The best place for him is behind bars until he can be lawfully removed from this country," a Home Office spokesman said.
"The government remains committed to securing his deportation as quickly as possible."