Army recruits as thousands laid off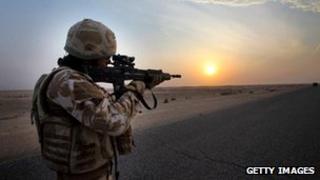 The Army has launched an advertising campaign aimed at recruiting 10,000 servicemen and women and staff, just ahead of another wave of job losses.
Next month, about 5,300 Army personnel are expected to be laid off as part of a restructure of the armed forces.
The new recruitment drive will include TV adverts and postings in job centres for privates and junior officers.
The Ministry of Defence said it was always recruiting to ensure there were enough juniors to promote in future.
The MoD is trying to reduce its regular fighting force from 102,000 to 82,000 by 2017 in order to "meet the challenges of the future".
The jobs are scheduled to go under the terms of the Strategic Defence and Security Review (SDSR), announced in 2010.
Soldier's journey
It is understood the redundancy notices, due to be issued on 18 June, will be for personnel from across the ranks, not just among senior staff.
This round of job losses will be the largest set of cuts faced by the Army so far, as the MoD tries to plug a £38bn hole in the defence budget.
The new TV adverts will show the journey a soldier could take during his or her Army career.
Those behind it are hoping to dispel the misconception that the Army is no longer hiring.
The service is aiming to fill the 10,000 posts over the coming year.
An MoD spokesman said: "The armed forces is always recruiting to ensure we have enough quality junior ranks and young officers to promote up through the organisation in future.
"The Armed Forces Redundancy Programme has been designed to safeguard those skill sets needed in the future armed forces, while ensuring that rank structure remains."
Brigadier Andrew Jackson, director of recruiting and training for the Army, said: "We are always looking for talented, young people to take up the challenge of a career in the Army.
"It will develop you and show you the strengths you didn't know you had."