Police use of dead children's identities 'was common practice'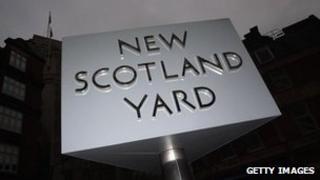 The use of dead children's identities by the Met Police's special demonstrations squad (SDS) was "common practice", MPs have been told.
In a letter about the Operation Herne inquiry into undercover policing, investigation head Mick Creedon said no affected families had been informed.
Claims over use of identities relate to the squad's operations in the 1980s.
Home Affairs Select Committee chairman Keith Vaz said families affected must be contacted as a matter of urgency.
The row comes more than two years after an undercover officer was revealed to have infiltrated environmental protests groups where he had at least one sexual relationship with an activist.
While the practice of undercover officers using the names of dead children has been known about for at least a decade, an article in the Guardian in February estimated 80 SDS members had done so.
Chief Constable Mick Creedon said there had been a number of speculative inquiries from relatives of children who had died asking the Met to confirm their identities had not been used.
"No families of children whose identities have been used have been contacted and informed," he wrote.
"No answer either positive or negative has yet been given in relation to these inquires from families."
He said the issue was "very complicated and mistakes could put lives in jeopardy".
But he said that, as he got to grips with his role as head of the inquiry - to which he was appointed in February - "addressing this issue and providing some reassurance to the public is one of my foremost concerns".
Asked how many such identities had been used, he said: "I am not able to answer this question at this time with any degree of absolute certainty but I can say that this was common practice within the SDS."
And he said it would "not be appropriate" in an "ongoing live investigation" to answer a question from the committee about how many children may or may not have been "born out of a relationship conducted by an officer undercover".
'Mammoth investigation'
Mr Creedon said the equivalent of 50,000 individual documents were yet to be processed and said: "Unravelling all the complexities of this is going to take a considerable effort and not a little time."
He said the investigation, which had 23 officers and 10 police staff working on it, had so far cost £1.25m and was expected to cost a further £1.66m over the next year.
No arrests had been made and no officers faced disciplinary proceedings, he added.
Keith Vaz warned that, with the size of the task facing officers, "it is vital that Herne does not go the way of the original phone-hacking investigations".
"It is imperative that a timetable is set for completion of the operation and the victims informed and apologised to as soon as possible," he said.
"In particular, the families of dead children whose identities were used, the offspring conceived by police officers using their undercover identities and those who had sexual relations with them using their alias must be contacted as a matter of urgency."
He said he was concerned that "a full-time chief constable is leading this mammoth investigation which is essential to the public confidence in the police".
A series of allegations have been made since it became known in 2011 that former PC Mark Kennedy had spied on environmental protesters posing as long-haired dropout Mark "Flash" Stone and had a relationship with a woman.
That led, in October 2011, to the launch of the Operation Herne inquiry into undercover policing which is also now investigating the practice of dead children's identities being used by officers.
Meanwhile, a number of women and men are suing the Met Police over alleged intimate relationships with undercover officers.