Family court expert standards open for consultation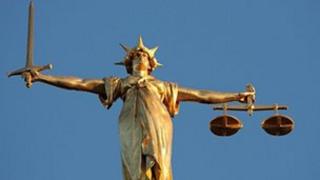 Poor quality expert evidence is to be "driven out" of family courts, the Ministry of Justice has said.
It launched a nine-week consultation on plans to get rid of "so-called experts who provide evidence which is simply not up to scratch".
It proposed introducing national standards on experts to speed up the family justice system in England and Wales.
The consultation is being jointly led by the Family Justice Council.
Family courts rule on cases where local authorities want to remove children from their natural families for reasons including risk of abuse or neglect.
They hear evidence from parents and relatives, plus councils and experts, before making the decisions.
'Major delays'
The family courts also deal with child custody cases following divorce or separation.
"For far too long there has been an increasing trend in England and Wales for expert witnesses to provide unnecessary and costly evidence - in the form of further written statements, clarifications and additional court appearances," the ministry said.
"This can cause major delays in child care cases and in the worst examples this has led to cases being forced to start again."
Under the plans, experts who are well-qualified and experienced will continue to provide evidence in the family courts - but others will be "driven out".
Family Justice Minister Lord McNally said: "Poor quality expert evidence can lead to unacceptable delays for children and their families.
"We want to ensure that evidence being put forward is more robust and that cases are resolved more quickly. It is an opportunity we cannot afford to miss."
'Best possible evidence'
He said experts were being called in to provide "extraneous" evidence, and often in a "tit-for-tat way". He said that currently "almost anyone can be brought in as an expert," so it was important to ensure that only genuinely qualified experts were used.
The consultation outlines, among other standards, that experts should be relevant to the case and have up-to-date experience.
They should also have a current licence to practise if their field is regulated in the UK, or be able to demonstrate they have the appropriate qualifications, and have recent knowledge or training of family court procedures.
The consultation comes more than 18 months after the independent Family Justice Review by David Norgrove, in which he criticised "shocking delays" in the family court system, and recommended that all childcare decisions be made within six months.
The plans were drafted by the Family Justice Council, which provides independent expert advice on the family justice system to the Family Justice Board and government.
Council chairwoman Heather Payne said: "The standards are designed to improve the quality, supply and use of expertise to improve outcomes for children in the family courts.
"They are intended to help experts and the courts alike, to ensure that they are delivering the relevant and high quality opinions based on the best possible evidence which the family courts need to help them make decisions."
In the 12 months to October 2011, £52m of legal aid was spent on expert reports. The ministry said the consultation was designed to "tackle the costs and delays brought about through poor quality evidence."
The consultation will run until 18 July.