Police water cannon being considered by Theresa May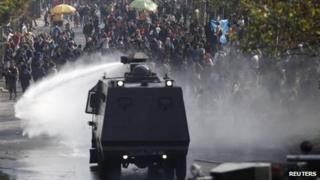 The home secretary has said she will look at the case for making water cannon available to police in England and Wales.
Theresa May said she had received a representation from the Met Police who said water cannon could be helpful.
Earlier this week, it was reported the Met wanted to acquire two German-made water cannon vehicles.
Water cannon have been used in Northern Ireland but they are not currently authorised in Britain.
The home secretary must approve their introduction.
BBC home affairs correspondent Danny Shaw said no formal application had been submitted by the Met.
But if approval was given for such a request, it would take two to three months to get the kind of water cannon the Met wants available for use in London, he added.
'Valuable' addition
Speaking after her appearance before the Police Federation annual conference, Mrs May said she wanted officers to have "the tools they need" to do their job.
It is understood the Home Office has no objection in principle to the equipment being introduced to forces in England and Wales.
Mrs May said: "We've not seen water cannon used on the streets on the mainland in the UK, but obviously they've been used in Northern Ireland.
"What I've said to the police is I want them to tell me what tools they need in order to be able to do their job. We want to be able to make sure the police can do the job that everyone wants them to do.
"They're putting a case to us about water cannon and I will look at that case."
The Met Police has previously said water cannon would be a "valuable" addition to their armoury when faced with situations such as the 2011 riots.
It has been reported the Met wants to use the Ziegler Wasserwerfer 9000, which cost £1.3m each and are capable of holding 9,000 litres (1,980 gallons) of water.
It is also understood the force had hoped to have the water cannon vehicles by next month, in case disorder arises from protests planned in London before the G8 summit in Northern Ireland.
Officers from English forces, who will be deployed at the summit in Enniskillen, are currently being given water cannon awareness training but they will not be operating them.
The Police Service of Northern Ireland (PSNI) has six water cannon vehicles, which are sent out in pairs to tackle public disorder.