UK-based firm stops selling phenobarbital drug to Arkansas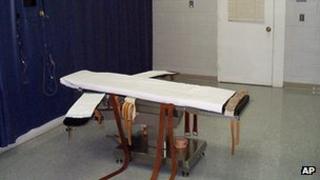 A UK-based pharmaceutical company has stopped selling a drug to Arkansas because the US state planned to use it to execute prisoners on death row.
Drug company Hikma, based in London, said phenobarbital is prescribed to prevent convulsions.
A spokesman said the drug is widely used and that the company did not condone its use on death row.
It acted to withdraw the drug on information from the legal rights charity Reprieve.
A spokesman said its subsidiary West-Ward Pharmaceuticals had not sold phenobarbital to the Arkansas Department of Correction (DoC) since mid-April when they were made aware it could be used for capital punishment.
Phenobarbital is used to treat epileptic seizures. But lawyers for six prisoners on death row in Arkansas say it is untested for use in execution and risks leaving permanent injuries or causing a lingering and inhumane death, said the BBC's Caroline Hawley.
'Kill prisoners'
In a statement, a spokesman for the company said, "It has recently come to senior management's attention that it may have been purchased by Arkansas DoC for future use in capital punishment.
"We do not condone the use of this drug for capital punishment and as a result we have stopped selling the drug to Arkansas DoC."
The charity which highlighted the issue attention welcomed Hikma's about-turn.
"Their action, like that of many other companies before them, demonstrates that the pharmaceutical industry is not willing to see its drugs used to kill prisoners," said Reprieve's Maya Foya.
"Departments of correction in the US must take heed of this message."