Savile producer Ted Beston 'relieved' as police drop action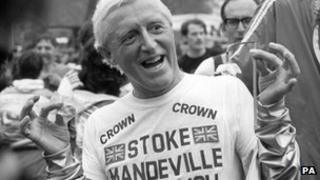 A former BBC producer is "greatly relieved" after learning he is to face no further criminal action by police investigating sex abuse claims against Jimmy Savile, his solicitors have said.
Ted Beston, 76, was arrested on suspicion of sexual offences on 19 December as part of Operation Yewtree.
But police found there was insufficient evidence to support a prosecution.
Mr Beston, of Bromley, in south-east London, had always denied the allegations against him.
'Shocked and appalled'
A statement released by his solicitors Ewings and Co said: "Mr Ted Beston is extremely relieved to note that officers from Operation Yewtree have informed him today that no charges will be brought against him.
"As an elderly man who has lost his wife and son in recent years, this has been a hugely distressing period and he is greatly relieved that his name has now been cleared.
"He was shocked and appalled by the revelations about Jimmy Savile but asks that all involved are mindful of the dangers of guilt by association. Having lived under siege he now asks that he be left alone."
Mr Beston had worked with Savile on his Radio 1 shows, including Savile's Travels.
The former producer was being investigated under the strand of the investigation termed "Savile and others" - meaning that the allegations were linked to Jimmy Savile.
A statement from the Metropolitan Police said: "There was early investigative consultation with the Crown Prosecution Service, but in accordance with the DPP's guidance on charging, the police did not submit the case for full CPS advice to decide the outcome."
Police say 450 victims have alleged abuse by Radio 1 DJ Savile, who died in October 2011.
Operation Yewtree is the Met's investigation into allegations, some dating back decades, that have arisen since Savile was accused of abuse in a TV documentary in 2012.
The operation has three strands.
One is looking specifically at the actions of Savile.
The second strand - which Mr Beston was arrested under - concerns allegations against "Savile and others".
The third strand relates to alleged complaints against other people unconnected to the Jimmy Savile investigations.