Gove: 'Pupil premium should be protected from cuts'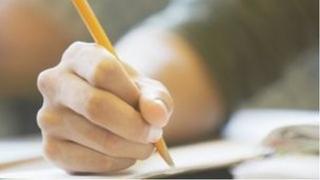 School funding that helps England's most disadvantaged pupils should be protected from cuts, the education secretary has said.
Michael Gove said the pupil premium needed to be insulated from any cuts during the latest Spending Review, which takes place on 26 June.
Under the scheme, schools in England are now allotted an extra £900 for every child from a low income family.
Mr Gove also acknowledged that he had pushed for too many changes to exams.
The pupil premium was introduced in April 2011 with the aim of bringing the achievements of poorer pupils up to the level of their better-off peers.
It is paid to schools for each pupil who is eligible for free school meals or who has been eligible at any point during the previous six years, or for pupils who have been in care for more than six months continuously.
Schools are free to spend the money as they see fit, but must be able to show how the cash is helping children from low income families. In February, Ofsted said a significant minority of schools in England are still not spending the extra funding effectively.
Mr Gove said that while his department might be able to make some budget reductions during the next Spending Review - which covers government expenditure from April 2015 onwards - the pupil premium should be untouched.
"I'm fighting hard to ensure that the budget priorities that we have, particularly making sure that we can protect spending for schools and spending for the most disadvantaged children, is insulated from the necessary economies that we need to make," he told the Andrew Marr show.
'Sheep pen of tests'
On exams, Mr Gove said: "I bit off more than I could chew."
Initially he had wanted to scrap GCSEs in key subjects in England and replace them with English Baccalaureate Certificates, but instead he had to settle for changes to GCSEs.
"I wanted to move to just one exam board because I thought that would be a way of preventing a race to the bottom," he said.
"In the end I had to accept that wasn't the right thing to do, but we are making some big changes elsewhere.
"We are getting rid of modules and resits, we're having more time for teaching and learning, less time on assessment and driving people through the sheep pen of all these tests."
Mr Gove also shrugged off criticism of his proposed changes to the history curriculum.
His plan to have topics taught in chronological order has proved divisive.
"I will take account of some (criticism) from people whom I genuinely respect," he said.
"There's been a chorus of support from some of the most distinguished historians saying that we are actually doing the right thing and also teachers whom I've talked to are enthusiastic about these changes."
He said the current history curriculum reduces things "to a lowest common denominator level which provides people with a level of historical knowledge that is just not adequate".