Prince Harry continues US tour with visit to war cemetery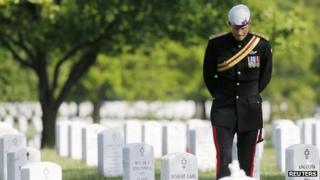 Prince Harry has begun the second day of his US visit by laying a wreath at the tomb of the Unknown Soldier at Arlington National Cemetery, Virginia.
He also laid a wreath on the grave of one of the American soldiers, selected at random, who died in Afghanistan.
His message read: "To my comrades-in-arms of the United States of America, who have paid the ultimate sacrifice in the cause of freedom."
The prince also visited the Walter Reed military hospital for wounded soldiers.
At Arlington cemetery he knelt on one knee and laid a wreath at the tomb of the Unknown Soldier before standing to attention.
The cemetery holds great significance for Americans because it holds the remains of soldiers involved in every conflict the US has fought in.
Prince Harry visited section 60 of the cemetery, dedicated to those US soldiers who have died in recent conflicts such as Afghanistan and Iraq.
He laid a wreath at the grave of Army Specialist Michael Stansbery Jnr, an artilleryman who was killed, aged 21, in Afghanistan in 2010 and signed the message Captain Henry Wales.
The prince, who has completed two tours of duty in Afghanistan as a co-pilot and gunner of Apache helicopters, also paid his respects to Major General Orde Wingate.
The British officer created the "Chindits" a special force who fought guerrilla-style behind Japanese lines during the Burma campaign in World War II.
He died in 1944 following a plane crash and his remains were transported to Arlington.
After visiting the cemetery, Prince Harry continued to Walter Reed military hospital in Washington DC, where he met soldiers undergoing physical therapy for wounds sustained on military service.
He spoke to Tim Payne, a US soldier who lost both legs in Afghanistan last year, who told the prince that coping with his injuries was a case of "all mind over matter".
Goody bags
On Thursday - the first day of his trip - the prince met Michelle Obama at a White House reception honouring America's military mothers.
The event, marking Mother's Day in the US, involved about 50 children making gift bags for their mothers and Prince Harry arrived as a surprise guest.
He helped the children to construct goody bags including bouquets of roses, edible salted dough jewellery and baked crisps.
He also attended an exhibition by the Halo Trust an anti-landmine charity in Washington DC featuring photographs detailing the story of landmines.
It is a charity that his mother, Princess Diana, also supported when she visited a minefield being cleared by the Halo Trust in Angola in 1997.
Later on Prince Harry will go to see the Warrior Games, a sporting event for service people injured at war, as part of his week-long tour.